Alien Connections Updates ReValver Guitar Amp Modeling Plug-In
Alien Connections has announced an update to its ReValver amp-modeling plug-in. After almost one full year of development and help from 30 guitarists, amp-builders and experts, ReValver MK II is now available as a VST version for Windows to be followed in January by a Mac OSX VST/AU version. A Live host program is included for both platforms.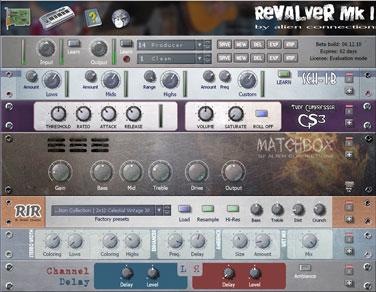 Alien Connections say that there are major differences in the way ReValver Mk II and any other guitar amp modeler works – never before has so much control been given to the user. Most amps are directly modeled after classic amps using their schematics – and almost every component in the amps can be tweaked using a graphical interface. The result is that you can swap tubes and even change the plate voltage of one triode.
Features:
• Truly advanced valve modeling, with amps and stomp boxes inspired from the original schematics
• Impulse Response speaker modeling, with hundreds of sampled speakers and cabinets
• Cabinet stress and speaker distortion
• Power amp rectifiers and output transformers
• Import or export your own Impulse Response files
• VST host module, allows you to insert your favorite VST plug-in right in the ReValver Mk II chain
• Fully MIDI mappable
Alien Connections' ReValver MK II is now available for €150. More information on the Alien Connections' ReValver MK II guitar amp modeling plug-in.