Chrysler Announces MyGIG Audio System On 2008 Sebring Convertible
Chrysler has added the MyGIG entertainment system as an option to its best selling Sebring Convertible. MyGIG is a cutting-edge information, entertainment and safety navigation audio system that will be available on the 2008 model This best-in-class, next-generation navigation radio features a 6.5-inch Thin Film Transistor (TFT) Display with a touch-screen panel that can support 65,000 colors, providing a three-dimensional appearance to graphics and animation, as well as multiple font sizes and styles. The MyGIG system follows voice-activated commands and includes many new features for music, sound, movies and personalized picture displays.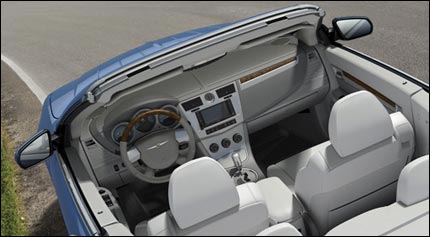 Features:
• A 20 gigabyte hard disc drive that includes Music Juke Box for organizing music and pictures on the hard drive
Universal Serial Bus (USB) provides both MP3 connectivity and downloading of WMA, MP3 and JPEG files onto the hard drive
• Gracenote database pre-installed on the hard drive, which provides song identification, including composer, artist and title
• Playlist creation capability to provide easy access to files
• Voice memo recording, which allows a message up to 3 minutes long to be recorded using the microphone integrated into the rearview mirror
• Radio screen, which can display movies (when vehicle is not in motion)
• SIRIUS Satellite Radio, which provides customers with more than 125 channels of the best music, entertainment and information coast-to-coast, 24 hours a day.
• UConnect Hands-free Communication System that uses Bluetooth technology to provide voice-activated wireless communication between the occupants' compatible cell phones and the Sebring Convertible's onboard receiver.
More information on the 2008 Chrysler Sebring Convertible MyGIG audio system.