AMG Unshackles Infinite Groove, Updates Kick-Ass Brass & ONE, Drops Platinum Loops
AMG has liberated Infinite Groove, updated Kick-Ass Brass! to version 1.0.5, ONE to version 1.0.3, and announced Triple Platinum Apple Loops for GarageBand. Busy, Busy, Busy!
Infinite Groove
AMG has finally liberated Infinite Groove, a live drum loop virtual instrument based on AMG's ONE technology. Infinite Groove features over 1500 loops from AMG's catalogue from AudioVirus, Neil Conti, Dave Ruffy and Tony Mason plus the forthcoming Greatest Hits collection of over 2600 hits free of charge.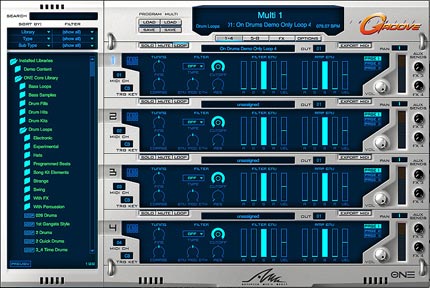 Features:
• 8 part Multi-Timbral Groove Activating Virtual Instrument. Each part comprising one loop channel, additional edit channel and 32 step-time parts so up to 272 fully programmable (16 groove-based, 256 step-time) loops in total, per instance!
• Includes Dynamically Indexed Pro Sample Library featuring over 1500 loops, plus an almost unlimited selection of single shot sounds and hits
• Loads Propellerhead Recycle REX and REX2 files & ACIDized loops plus WAV and Aiff Files so you can use your own samples too!
• Powerful Sample Browser with user definable filters to quickly and easily find the sounds you want the way you want to! Never waste time finding your beats again!
• Instant Control – Loops automatically sync to host tempo with single-key trigger and real-time pitch shifting, loop slices can be individually triggered or MIDI data exported to edit in your host sequencer for total flexibility
• Ful Beat Editing – remove, mute, reverse, substitute or export any hit from within a groove! Nudge single hits or groups around, edit every hit or place controls assignable over MIDI on a note or groups of notes for amazing results – all in real time too! Great for interactive beat building or even live applications
• Step-Time Sequencer – TR-Style Step Sequencer with 32 slots you can load with your own samples or any hit from any loop in this library
• Complete control & Powerful processing options – Powerful resonant multi-mode filter, 4 64 bit FX processors, all parameters controllable via user-assigned MIDI controller data
• Low CPU use
• Can be used directly inside any VST2 or Audio Unit compliant host sequencer program, a standalone version is also now included as standard for users who can't use VST or AU versions.
Updates for ONE and Kick-Ass Brass!
AMG has updated ONE to version 1.03 and Kick-Ass Brass! to version 1.05 – mainly small bug fixes and resolution of compatibility issues with the latest version of DP.
Triple Platinum Apple Loops for GarageBand
AMG has also announced the release of a new Apple Loops title featuring samples from 10 of their biggest name producers. Triple Platinum features Vince Clarke, Norman Cook, Pascal Gabriel, Coldcut, Neil Conti, Garry Hughes, Tony Mason, Danny Cummings & Miles Bould. In total there are over 800 Apple Loops. Well over 500 of these are brand new, some from every producer except Tony Mason, the rest are taken from their existing Apple Loop CDs.
Infinite Groove is available for Windows and Mac OS X in VST and AU formats and costs $250 / €225 / £150. Demo versions are available. Triple Platinum Apple Loops for GarageBand will be released by mid January at the latest and retail for $50 / €45 / £30. The updates to ONE and Kick-Ass Brass are free. More information on the dirth of AMG products: Infinite Groove, Kick-Ass Brass!, ONE and Triple Platinum GarageBand Loops.