Mesa+ Updates Add To Version 1.2
Mesa+ has updated their VST2.0 compatible phrase-sampler, Add, to version 1.2. Add combines a powerful sampler (Sound Engine) with a real-time phrase sequencer (RPS), and is designed to be utilized in a live performance or as a creative compositional tool. It enables you to quickly create original sequences while improvising with your midi-keyboard. Add is 8-part multitimbral, each part containing its own RPS and Sound Engine. Add comes with its own unique sound library, which provides sequences and sound-patches. These are constantly being updated and can be accessed on our website.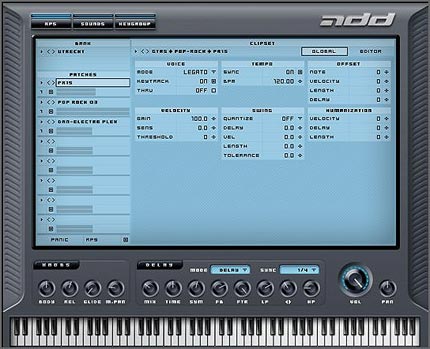 Enhancements:
• Add has now a powerful Arpeggiator. It automatically creates new sequences in real-time by combining MIDI input (preferably chords) and a MIDI clip.
• User LFO waveform can now be stored into a dedicated folder.
• User scale graph can now be saved and loaded.
• The clip key-range is now stored in a clipset file for all clips, clip file now contains only MIDI data information.
• Fixed Changing VST presets caused crashes in certain hosts Bug
Mesa+ Add 1.2 is now available as a free download for registered uses of version 1.1. Version 1.1 can be purchased for €159 directly from Mesa+. More information on the Mesa+ Add 1.2.