V-Moda Unveils Vibe Earphones
V-Moda has recently unveiled the Vibe, a paiir of sexy-looking, noise-isolating earphones that come in two tasty flavors: gun-metal and chrome. The luxurious, all-metal design of Vibe puts the earphones on par with high fashion jewelry, while the lightweight micro-size and ultra-soft silicon fittings provide a secure, comfortable fit during the most rigorous activities.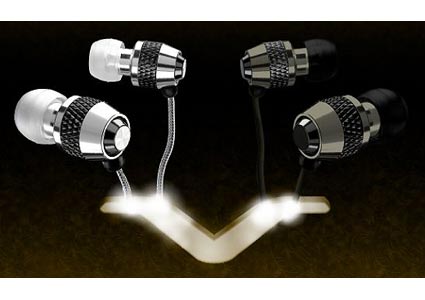 Premium metal composition and superior technology enable a sculpted response curve fashioned for the discerning audio enthusiast, providing a precise balance of rich bass, warm mids and unprecedented clarity. Utilizing V-MASQUE dynamic driver technology, Vibe is able to achieve a precise yet natural soundstage in comparison to other high-fidelity earphones. BLISS (Bass Level Isolating Soft Silicon) technology further reduces outside noise for a precise and rich bass response (frequency 12Hz to 22Hz).
Weighing in at only 12 grams, Vibe is the ultimate earphone for both outdoor activities and chillin'. With three sizes of ultra-soft silicon fittings in both clear and black colors, the earphones fit securely and comfortably and won't jar loose during exercise.
Vibe modaphones are available in two high-fashion colors: Gunmetal Black and FlashBlack Chrome. The included Modawrap cable manager adjusts the length of the sport-optimized lightweight cables, and an elegant leather gold pouch is also provided for safe travel and storage. As a unique added bonus, customers receive VIP card access to exclusive V-MODA modcasts, music and other gear along with their purchase of Vibe.
Vibe earphones are now available for $101 and are sold at major retailers, as well as V-Moda's online store. They come with a 100 percent risk-free satisfaction guarantee, as well as free shipping in the U.S. for a limited time only. More information on the V-Moda Vibe Earphones.