ezGear Introduces The Original EZL – iPod Stand
ezGear has announced the introduction of The Original EZL, the first folding table stand for your Video iPod and other portable video devices.
Manufactured from high-strength and lightweight ABS plastic, the EZL (pronounced Easel) is a portable solution for holding your iPod. When stored, the EZL lies completely flat at a mere 1/8" of an inch, easily fitting in your pocket, purse, backpack, or briefcase. When opened, the EZL provides a rock solid stand to display your iPod, while protecting those shiny surfaces from the scratches that can become the bane of an iPod owner's existence. The arms at the bottom of the EZL lift your iPod off of the table, providing convenient access to the dock connector. The neoprene pads provide further stability and scratch protection.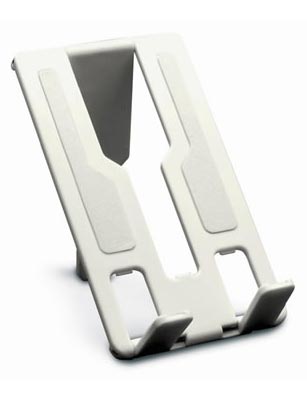 The EZL is perfect for use on an airplane table. The bottom of the EZL has non-skid pads to make sure your iPod does not slip on the table. The EZL is compatible with all iPod cases, so you get to choose how you want to protect your iPod. With its ingenious design, light weight and sleek appearance the EZL makes a great companion to countless other portable electronics including: ZUNE, PSP, Palm Devices, Blackberry as well as other digital music devices like the Creative Labs ZEN Vision M.
The ezGear EZL's suggested list price is $14.99 and will ship on November 27th. More information on the ezGear Original EZL.