SM Pro Audio Shipping New ADDA Converter
SM Pro Audio is now shipping their new ADDA 192-S, a two-channel, 24-bit, 192-kHz AD/DA converter. The ADDA Converter is designed for a range of duties including professional studio recording, field recording, audio mastering, and broadcast applications, the ADDA 192-S is an good tool wherever solid AD/DA conversion is desired.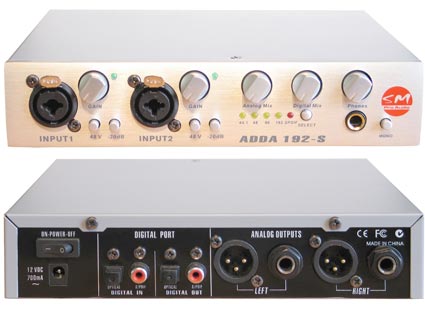 With impressive low noise performance, the ADDA 192-S provides a faithful recreation of the input signal. The accurate, linear, and distortion free outputs are acutely detailed to ensure recordings and conversions are realized without compromise.
Two high quality combo connectors are provided on the front panel for easy connectivity of mic or line level sources. The mic inputs feature preamps with switchable 48V phantom power and -20dB PAD. High-quality internal analog circuitry ensures optimum analog performance, while digital connectivity is provided in the form of both optical and coaxial S/PDIF I/O.
Operating at sample rates to 192kHz, the ADDA 192-S functions with an extremely low degree of jitter, resulting in a sonic quality free from artifacts. The unit is designed to operate from internal or external sync (via S/PDIF).
The built in headphone amp and analog/digital rotary mix controls allow the ADDA 192-S to be monitored effectively in any situation. The master XLR and headphone output signal can be specifically tailored to provide a controlled mix level of both the analog and digital inputs. Perfect for zero latency direct monitoring applications.
The SM Pro Audio ADDA 192-S is now available for $499. More information on the SM Pro Audio ADDA 192-S.