Blue Cat Audio Releases Dynamics
Blue Cat Audio has released Dynamics, a complete dynamics processor featuring a compressor, limiter, gate, expander and a distortion unit.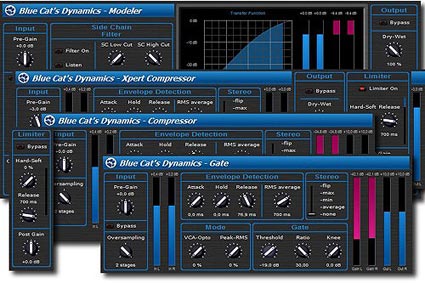 The Blue Cat's Dynamics plug-in includes an input filter as well as a side chain filter, in order to control the frequencies affected by the compression. Its continuous VCA/Opto and Peak/RMS controls let you smoothly and precisely choose the behavior of the envelope detection. You can manage the dynamics response of the plug-in with a unique two-thresholds system.
Features:
• Full featured dynamics processor: compressor, gate, limiter, expander, distortion
• Total control over the processor: continuous peak/RMS and Opto/VCA modes selection
• Total control over the signal: dry/wet control, input fiter, side chain filter
• Any sample rate supported
• No latency
• Post brickwall limiter or waveshaper
• Optimal monitoring: dynamics response and input/output envelopes real time display, main compression information can be recorded as automation curves
• Best quality: up to 4x oversampling for the best sounding quality
• Side chaining made easy: a unique way to perform side chain compression and much more
• Real time MIDI control with advanced settings (MIDI channel and CC numbers, with complete response curve control) and MIDI learn
• Multiple skins included for optimal user experience
• Native DSP code for optimal performance
• Skinnable user interface
• DirectX and VST plug-in formats support
• Smooth Update: silent (zipper-free) parameters update
• Full automation support (all parameters can be automated, with smooth and continuous update)
The Blue Cat Audio Dynamics Plug-in costs €79 / $95. More information on the Blue Cat Audio Dynamics Plug-in.