Plogue Updates Bidule To Version 0.93
Plogue has released version 0.93 of Bidule, its modular audio software.
Features:
• Realtime Audio/MIDI/Spectral processing
• Completely modular architecture
• Runs as VST/AU plugin or standalone
• Runs as ReWire mixer or device
• Runs as OSC client and server
• VST/AU instruments and effects hosting
• Building blocks for FX/inst creation
• More than a 100 ready-to-use modules
• Supports multiple tempos at once
• Inter-module parameter linking
• Zoomable OpenGL-based canvas
• Multi-channel audio file streaming
• ASIO/CoreAudio low-latency support
• Offline mode (rendering) available
• Uses 32-bit precision throughout
• Online catalog of ready-made groups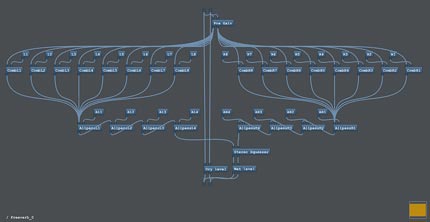 New Features in 0.93:
• Optimized internal processing of many internal bidules
• Added Open UI parameter to all internal bidules and plugins
• Added possibility to change a parameter UI control type in groups
• Added label and LED to group parameter UI controls
• Audio Stats bidule
• OS X (UB version): handling of AU and VST plugins UI completely redone
• OS X: added larger buffer sizes for DSP processing
• OS X: added reduce MIDI jitter option in the preferences
• OS X VST: multimaker (to have multiple I/O VSTs) now available
• AU: added sidechain effect version
• MIDI Splitter: added split by note
• Many more little improvements
Bug Fixes:
• AIFF files can now all be read
• OS X: Cocoa UIs sometime creating crashes when closing
• Plugin: crash could occur when closing plugin with linked Plugin Device parameters
• VST: latency returning to 0 wasn't noticed
• VST: not setting itself to the host sample rate in some cases
• Windows: OpenGL hardware acceleration now off by default, you can enable it in the preferences
• Other small tweaks
Bidule is available for $75 on both the Mac and PC platforms. More information on Plogue Bidule 0.93.