Monster Announces iCarPlay Wireless 200 FM Transmitter With AutoScan
Monster has announced the iCarPlay wireless FM transmitter with a new autoscan technology that will automatically scan all of the FM networks to find the clearest one to work with your portable player. It will also display the station information on the actual iPod screen itself and allow you to
program the three most reliable frequencies.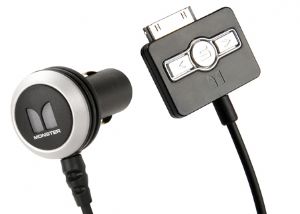 With other FM transmitters, finding an FM frequency clear enough to enjoy your device on can be time consuming, annoying and distracting while driving, not any more according to Monster. The iCarPlay Wireless 200 incorporates exclusive Monster AutoScan technology that automatically seeks our and tunes
in the clearest FM frequency available. Now you can find the best station to enjoy your tunes with one touch of a button. In addition, iCarPlay clearly displays all essential information on your iPod's screen and features easy 3-button control to directly access features and settings.
For added flexibility and convenience, the incorporated Smart Digital Charger technology also rapidly charges your iPod.
The iCarPlay costs $99.95 and is available now from Monster's website and major retailers. More information on the Monster iCarPlay.