ArtsAcoustic Updates Reverb To Version 1.2
ArtsAcoustic has updated its Reverb plug-in to version 1.2. The ArtsAcoustic Reverb is a high quality reverb for everyday use in a professional studio. Reverb is a highly advanced, but easy to use algorithmic reverb. Not utilizing convolution allow the company to give users more control, not only over a few, but all important parameters which are needed to design a room to perfect results.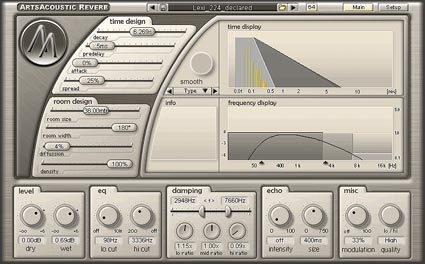 Another focus in the update was CPU usage. ArtsAcoustic developed their reverb to work well on most processors/vst hosts without eating up precious cpu cycles.
Updates in Version 1.2:
• Universal Binary Support for Mac OS X
• Supports VST 2.4
• Various small bug fixes
ArtsAcoustic Reverb costs €189/$189 and is available for download from their website. More information on the ArtsAcoustic Reverb.