AMG Announces Infinite Groove With Release Of Metropolis
AMG has announced Infinite Groove, a live drum loop utility with over 1500 included beats. Infinite Groove also comes packaged with AMG's Greatest Hits with over 2600 top quality drum hits.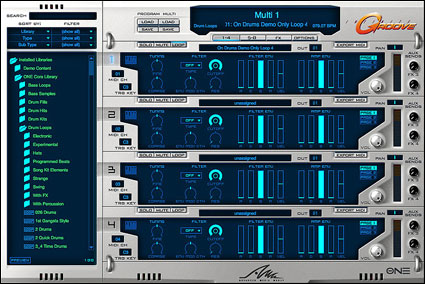 Features:
• 8 part MULTI-TIMBRAL Groove Activating Virtual Instrument. Each part comprising one loop channel, additional edit channel and 32 step-time parts so up to 272 fully programmable (16 groove-based, 256 step-time) loops in total, per instance!
• Includes Indexed Professional Sample Library featuring over 1500 loops, plus an almost unlimited selection of single shot sounds and hits
• Supports Propellerhead Recycle REX and REX2 files & ACIDized loops plus WAV and Aif Files so you can use your own samples too!
• Sample Browser with user definable filters to quickly and easily find the sounds you want the way you want to!
• Loops automatically sync to host tempo with single-key trigger and real-time pitch shifting, loop slices can be individually triggered or MIDI data exported to edit in your host sequencer for total flexibility
• Full beat editing – remove, mute, reverse, substitute or export any hit from within a groove! Nudge single hits or groups around, edit every hit or place controls assignable over MIDI on a note or groups of notes for amazing results – all in real time too!
• Step Sequencer – Roland TR-Style Step Sequencer with 32 slots you can load with your own samples or any hit from any loop in this library
• Powerful resonant multi-mode filter, 4 64 bit FX processors, all parameters controllable via user-assigned MIDI controller data
• Low CPU load
• Great results with very little input, but put in time creating your own edits and get paid back in spades.
• Can be used directly inside any VST2 or Audio Unit compliant host sequencer program, a standalone version is also now included as standard for users who can't use VST or AU versions.
Infinite Groove, the acoustic drum version of ONE that features over 1500 live acoustic drum loops, can be pre-ordered now for £150 / $250 / €225. It will be available in late October along with ONE Expansion Libraries and a new Apple Loops title – Triple Platinum Apple Loops. Infinite Loops is not Intel Mac compatible at the moment, but an update will be coming soon. More information on Infinite Groove.
AMG also released Metropolis, a new Hip Hop virtual instrument for Windows and Mac OS X in VST and AU plug-in formats. Metropolis is based on AMG's ONE sample player and features over 4 Gb of brand new hip hop samples from Lukecage. In all over 1400 loops are presented in full or as individual elements so you can quickly pick and mix drums, bass, licks and more to achieve authentic hip hop.
Metropolis is available now for £120 / $200 / €180. Existing ONE owners are entitled to a 25% discount, for a limited time. More information on Metropolis.
AMG also updated Kick-Ass Brass! to version 1.04 and ONE to version 1.02. Both fix relatively small bugs and address problems with host updates. ONE also adds incremental scanning to drastically reduce scanning times for users with large libraries of their own samples.