M-Audio Announces GuitarBox & GuitarBox Pro
M-Audio is proud to announce shipment of the new GuitarBox and GuitarBox Pro complete music production systems for guitarists. Both systems combine the M-Audio Black Box and Pro Tools M-Powered software. Both also feature a suite of 7 Bomb Factory plug-ins, 33 DigiRack plug-ins, Digidesign Xpand! virtual instrument, Pro Tools Method One instructional DVD and Ableton Live Lite Digidesign Edition.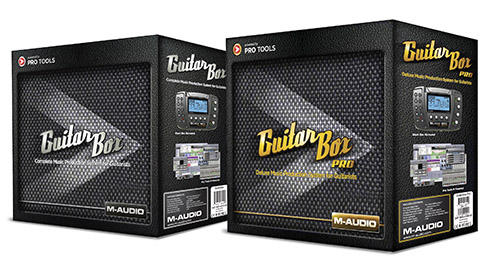 The GuitarBox ships with the G-Rack premium plug-in effects bundle including SansAmp PSA-1 amp- and cabinet-modeling plug-in, Tel-Ray Variable Delay, Moogerfooger bundle, Voce Chorus/Vibrato and Spin and TL Space Native Edition convolution reverb. The GuitarBox Pro ships with the more extensive G-Rack Producer premium plug-in effects bundle including all of the G-Rack plug-ins, plus the Fairchild 660 and 670 boutique tube-modeled compressors/limiters, Pultec Bundle vintage tube-modeled EQs, Maxim mastering limiter/sound-level maximizer, and DINR LE noise reduction plug-in to remove noise or buzz from pickups.
"The Black Box and Pro Tools M-Powered complement each other as incredible power tools for guitar processing and music production, respectively," says Adam Castillo, marketing director at M-Audio. "Combined, they form a complete professional solution for guitarists embracing cutting-edge, computer-based recording. Add the G-Rack and G-Rack Producer premium effects bundles to the already stunning array of 45 Bomb Factory and DigiRack plug-ins and the value in these packages is simply unmatched. The GuitarBox and GuitarBox Pro have it all—signature tone, groundbreaking effects, huge beats, seamless integration and the industry standard in music production software."
Co-designed by Roger Linn, the Black Box is now reloaded with 40 amp models—including emulations of many of the greatest guitar amps of all time. It also incorporates over 120 unique and inspiring effects, many of which are rhythmic and beat-sync to Pro Tools M-Powered. Users can dial in the perfect patch for recording, then bring that sound to their gigs because it's where they want it—in the Black Box, not at home in their computer. A built-in microphone preamp is also included for recording and processing vocals and acoustic instruments.
Features:
• Built-in 24-bit USB audio interface connects directly to your computer
• 40 realistic models of the greatest amps of all time
• 121 effects for incredible creative versatility
• Effects sync to tap tempo or Pro Tools M-Powered
• 100 drum patterns and guitar tuner built in
GuitarBox & GuitarBox Pro are available now and retail for $495 and $695 respectively. More information on the M-Audio GuitarBox and GuitarBox Pro.