Iced Audio Releases AudioFinder 4.0
Iced Audio has released version 4.0 of AudioFinder. AudioFinder is an audio asset management system, and music production hub. AudioFinder gathers all the most useful tools in one quick and intuitive application, enabling you to be more creative by handling all the time consuming tasks that slow down your music production.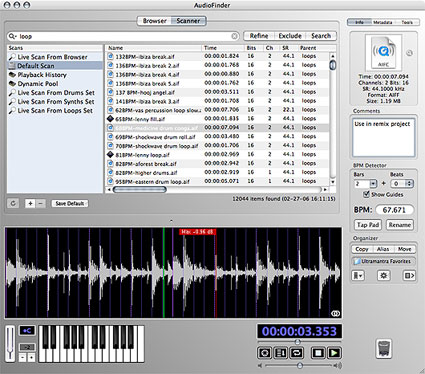 AudioFinder can build a catalog of every sound on your system, save it, and search it instantly to find the sounds you need when you need them. Use AudioFinder to create custom sets for sound categories and specific projects, with fast file browsing to audition, analyze, process, convert, and move or copy the samples in your library.
AudioFinder can visualize sounds instantly with the waveform overview and preview them at any pitch via MIDI or the built in keyboard, all in real-time. Sounds can even be previewed through your favorite AudioUnits. Speaking of Plug-Ins, AudioFinder features an advanced Plug-In manager and slew of other studio necessities that will make your workflow flow. Necessities like the MetaEditor with built-in beat detection and tools for fast trimming, fading, slicing and dicing your sounds. You can even convert your audio sample CDs into individual files with just a few clicks of the mouse.
Changes:
• Various Bug fixes
• Add File System notifications so that currently viewed browser column updates when other applications make changes in the current folder
• Change Gain settings are saved for the next time and now show the value in dB
• Brand new Auto Crop signal processing feature that works with all bit depths
• Added the ability to drop a folder on the AudioFinder application icon to play the contents
• Dozens of User Interface enhancements
• Fixed the organizer path display to show "…" in the middle when the name is too long
• New timer views
• New waveform preview
• New icons in the Scanner
• Folders can now be moved to the trash with the Browser
• Added Escape shortcut to close the Meta Editor
AudioFinder costs $69 bucks via PayPal. More information on AudioFinder 4.0.