MHC Releases Industrial Tones Synth
MHC has unveiled Industrial Tones, a software synthesizer specifically designed for Industrial Music. MHC has included a large selection of industrial waveforms and an advanced effects engine for tweaking. The synth is available as a VST plugin for Windows and soon as an Audio Unit and VST plugin for Mac OS X.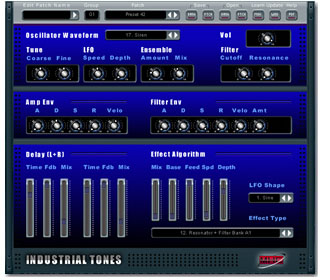 Industrial Tones has a similar architecture as Ambient Keys, but has a special set of filter banks. Industrial Tones plays hundreds of waveforms/samples and processes these using the plug-in's synth engine and its advanced effects processor, which has 133 different effect modes.
1024 Presets Included:
Industrial Tones includes 1024 presets. 256 of them are installed with the plug-in. When you feel ready for more, then just download a new "soundpack", which includes a new set of industrial waveforms and 256 new presets to explore. Three soundpacks are included with the purchase of the plug-in.
You can start with the included 256 presets, and then visit MHC to download a new soundpack when you need new sounds. Or download everything immediately if you wish (each soundpack is approximately 5 MB).
Effects:
There are 133 effect modes, including crossfading effects and layered effects. The effects section features a large set of filter banks, a resonator, flanger, reverb, pitch shift, a sub oscillator, amplitude modulation, distortion, plus layered and crossfading versions of these effects. The filter banks have been tuned to fit the waveforms and the category Industrial.
Crossfading effects means that Industrial Tones can alternate between effects. Many of the presets make use of this feature.
The sound of the filter banks can be adjusted. The effects (except the reverb) may be controlled by an LFO with 7 different waveforms and two variations of each (14 in total). The reverb includes a lowpass filter for realistic damping. In addition, the plug-in has a dedicated ensemble section and a built-in stereo delay.
Voices:
The number of voices is only dependant on the power of your CPU. But you may set a voice limit, if you want to, for example maximum 8 or 16 voices or any number. Each voice has its own resonant filter, which can be controlled by an envelope or with velocity. You may adjust the waveform pitch and there's a traditional amp envelope there too.
MIDI Controllers:
The plug-in features an easy-to-use "learn mode" to support MIDI controllers. That makes it easy for you to, say, draw a waveform in your sequencer and then let it control any of the knobs. Or hook up a a cheap external MIDI controller and control the plug-in with it.
Industrial Tones costs $99 bucks. More information on Industrial Tones.