Creative Announces Xmod Music Enhancer
Creative announced the Xmod, an external sound module incorporating its X-Fi audio enhancement system, a technology it claims can make even lossy compressed audio formats like MP3 and AAC sound better than CDs.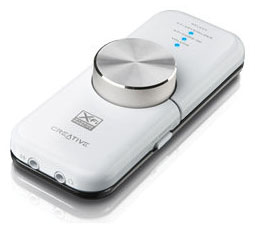 The Xmod dongle connects between an iPod, PMP, Mac or PC's sound output and a pair of headphones or speakers. The signal's re-digitised to replicate the low and high frequencies that are usually tossed during the compression process. The unit also provides a virtual surround sound system, essentially by taking the stereo signal and widening the channel spacing, though Creative claimed it smartly anchors audio elements like movie dialogue in the center of the stereo spectrum.
The Xmod is for desktops and laptops only and will be available at the end of October. It will retail for $80 / €63. More information on the Creative Xmod.