M-Audio Announces ProFire Lightbridge Soundcard
M-Audio has released the ProFile Lightbridge Soundcard for $499. The ProFire Lightbridge interfaces up to four Lightpipe devices with a PC or Mac via FireWire. M-Audio decided to give the user as much flexibility for the buck by allowing them to seamlessly integrate digital mixers, AD/DA converters and/or ADATs with most popular DAW software.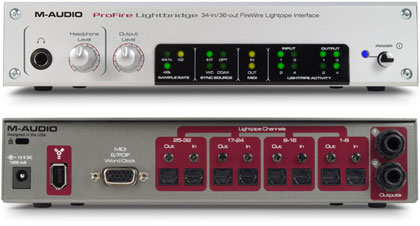 The unit is capable of 32 channels of Lightpipe I/O, two channels of S/PDIF I/O and two-channel analog output for a total of 34 x 36 concurrent channels at 44.1 or 48kHz sample rates. (It also supports 16-channel Lightpipe operation at 88.2 and 96kHz sample rates via the SMUX protocol.) The ProFire Lightbridge can output word clock as a master, or slave to external sync on any input, and MIDI I/O also accommodates MIDI Time Code and MIDI Machine Control. Independent volume controls are provided for the 1/4″ balanced outputs and front panel 1/4″ headphone jack. The ProFire Lightbridge is compatible with most DAW software.
Features:
• 32-channel Lightpipe I/O at 44.1 or 48kHz
• 16-channel Lightpipe I/O at 88.2 or 96kHz using SMUX
• S/PDIF I/O (via included breakout cable, coax)
• two 1/4″ TRS analog outputs with dedicated level control
• all analog and digital I/O active simultaneously (total of 34 x 36 concurrent channels at 44.1 or 48kHz; 18 x 20 at 88.2 or 96kHz)
• word clock I/O (via included breakout cable, BNC)
• MIDI I/O (via included breakout cable)
• 1/4″ front-panel headphone out with dedicated level control
• up to 24-bit/96kHz operation
• FireWire connectivity to computer
• indicators for sample rate, Lightpipe I/O, MIDI I/O, sync source and power
• Kensington lock slot
• half-space rack chassis, optional mounting tray
• compatible with most major DAWs
The Profire Lightbridge retails for $499.95. More information on the M-Audio ProFire Lightbridge