Yamaha Introduces EMX5016CF Powered Mixer
Yamaha has launched its EMX5016CF, a 16-channel stereo powered mixer, which includes two 500-watt amplifiers. The EMX5016CF combines a mixer to balance sources, effects to add ambience to the sound and amplification to drive house speakers. Features include single-knob input compressors, feedback eliminator, automatic digital graphic EQ, Dual Effect engines and a Maximize function for the main output. The unit replaces the company's EMX5000-20.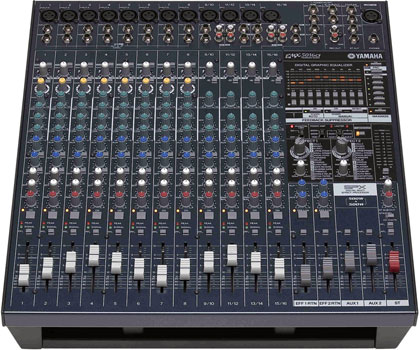 The EMX5016CF has a total of 16 input channels, eight for monaural microphone or line input plus four stereo pairs. The stereo channel pairs can function either as monaural microphone inputs or stereo line inputs. This system gives you extra microphone inputs if your sources are mostly microphones, or if you need to handle more stereo sources, the EMX5016CF will comfortably handle four pairs in addition to eight mono mic or line inputs.
The EMX5016CF features compressors on all monaural microphone/line channels that can help to make vocals ride the mix better, give you that smooth compressed guitar sound, deliver more punchy bass, and generally refine your mixes in a multitude of ways. These unique one-knob compressors are surprisingly simple to use. There are no multiple attack, threshold, makeup gain, and other controls – just set the COMP control to the amount of compression you need.
The advanced digital 9-band graphic stereo graphic equalizer goes way beyond conventional analog types with a refined control interface, instant-recall presets, and user memory locations. It also works with the console's innovative Frequency Response Correction system (see below) for unprecedented response-shaping control.
More information on the Yamaha EMX5016CF Mixer