TestDrive: Amplitube 2 – Product Review
The Amplitube Strikes Back!
IK Multimedia's Amplitube 2 is the sequel to the company's pioneering guitar modeling processor. Many purists never would of thought of outsourcing their guitar sound to a computer, but Amplitube was the first mainstream program to demonstrate what could be achieved with virtual amps and effects, and left many musicians salivating at the possibilities.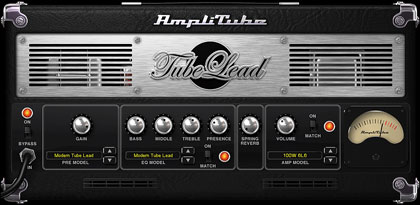 Amplitube was then eclipsed by Native Instrument's powerful Guitar Rig, which incorporated a pedal so that guitarists could take their virtual show on the road. Before IK could respond, Native quickly updated Guitar Rig to version 2.0 with new enhancements and an even more sophisticated foot controller. With Native's lead, coupled with Amplitube 2's extremely long development time, many thought that IK wouldn't be able to make up the distance between the two products. However, IK has come roaring back with a brilliant sounding plug-in for only $399.
Let's just get this out of the way immediately. The sound quality of Amplitube 2 is simply amazing. IK completely revamped the sound engine of Amplitube 2 with a new technology dubbed Dynamic Saturation Modeling (DSM) which mimics each component's circuit boards, tubes, cabinets, stomp boxes and other attributes to obtain the most accurate emulations to date. The improvement in aural quality is staggering when compared to the first incarnation of Amplitube, and opens the doors even wider for electronic musicians to create tantalizing sonic landscapes… More!
Read the entire Amplitube 2 review on Futuremusic's TestDrive