Trifex Releases PhatBuzz Bass Mastering Plug-In For Windows
German concern Trifex has officially released PhatBuzz, a mastering-plugin for enhancing bass frequencies after the limiting-stage without the clipping that often occurs when one tries to really push low frequencies in the digital realm. A freeware version, PhatBuzzFree, is also available, but is limited to 44.1khz and does not have latency compensation.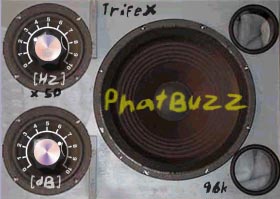 The full version of PhatBuzz Features:
• Support for 32k to 96khz samplerates.
• Latency Compensation.
• Improved boost algorithm.
• Future versions (freeware will stay the same).
• Development of new plugins.
• Beta-Test Invitations.
The full version of PhatBuzz costs €40. Both plug-ins are available as VST effects for Windows. More information on PhatBuzz