RaySpace Updated For Audio Units & Universal Binary
QuikQuak announced that its reverb plug-in RaySpace is now available as an Audio Unit and supports Universal Binary for AU and VST. New Features also include a new preset selector and a more efficient processing.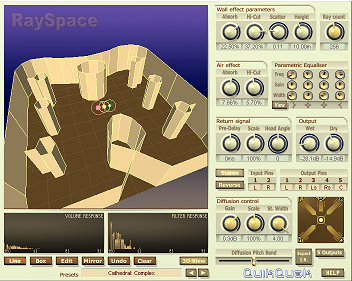 RaySpace is an acoustic room simulator. This unique reverb creates up to five channels of surround-sound reverb, all calculated in real-time. The characteristics of the room shape, height, positions and materials can all be adjusted while you listen, making RaySpace a very inspirational and spontaneous tool.
RaySpace costs $90. More information on RaySpace