Korg Announces Kaoss Pad 3
Korg has announced the Kaoss Pad 3 (KP3) after news of the product was leaked by a retail store employee to a blog savvy patron. The first Kaoss Pad was excellent in concept, but severely lacking in quality, both audio and construction wise. The second incarnation of the pad built upon the weakness of the first, but was more like a version 2.0, then a new paradigm. However, the third Kaoss incarnation is a whole new beast.
This latest Kaoss incarnation has been completely overhauled with significant advances to the unit's core competency. Korg's synth division has been severely misfiring as of late, but their video devices and controllers have picked up the slack. The Kaoss 3 touts new effects algorithms, synth sounds from the Radias engine, enhanced sampling, as well as true USB computer connectivity. A new pad lighting system places 64 individual LEDs in an eight by eight grid under the pad, providing visual cues as to the current program, position, and effects. The pad even has a Dancing Baloney feature: the ability to scroll a custom message across the pad! Our suggestion: "Korg replace your keyboard engineering team!"
The KP3 comes equipped with 128 effect programs including meat'n'potatoes delays, flangers, and basic filters, as well as newly developed algorithms: grain shifter, decimator, a vintage analog style filter with a tone-bending drive circuit, and expanded EQs that are controlled directly from the pad. There are also drum grooves and even RADIAS-inspired vocoder and synthesizer sounds that can be played free-form on the X/Y pad.
As you move your finger across the touchpad the LED grid on the touchpad will show the exact location, so you can pick up where you left off without any "jumps". Better yet, Pad Motion can "breadcrumbed" so you can repeat a fluid or complex gesture played on the pad over and over.
A separate FX Depth knob sets the overall balance between the original signal and the effect, so you can add just the right amount of processing. The eight Program Memory buttons allow you to store all of this information – Program Number, Hold button On/Off status (and coordinates), Pad Motion, and the FX depth setting – to a single button for instant access during performance.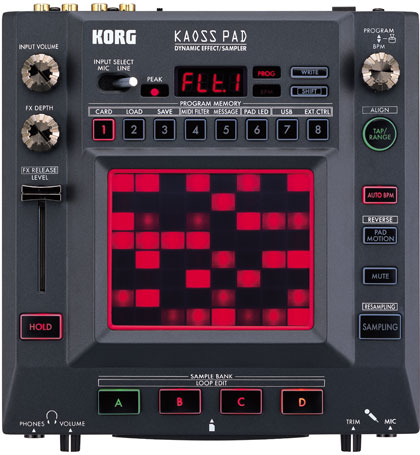 Another new innovation in the KP3 is called FX Release. Basically, FX Release adds an adjustable delay tail when you remove your finger from the pad. In addition to being a creative performance tool, FX Release also prevents the abrupt dropping out of the effect as you transition from one setting to another, providing a smoother and more musical performance. The FX Release delay effect is automatically set to the current tempo – whether manual, MIDI, auto BPM or Tap Tempo – and the amount of the FX Release and can be set and saved individually with each program. Very cool!
Four Sample Bank buttons on the front panel allow you to create, play and save both looped and one-shot samples on the fly. All samples are recorded using high resolution 24-bit converters, and are stored in16-bit/48 kHz format. Samples can be saved on a Secure Digital (SD) card or transferred to computer via USB. With both mic and line inputs, the KP3 allows you to sample from a wide variety of sources.
The KP3's sampling system thinks and speaks in the language of music. For instance, when creating loop samples, for example, sample length is set in terms of beats, not seconds. You can generally set the sample length up to 16 beats long. When sampling is finished, the sample will immediately start playing in sync with the sample source. As the sample plays you can adjust the start time of the sample to "fine-tune" it to the original tempo, or to dial-in time shifted playback.
Time-Slicing chops a sample into separate parts. You can use the Program Memory buttons to turn these individual slices on or off in real time, creating new rhythmic patterns from the original sample as part of your performance. Sampling and effects are totally integrated in the KP3, so you can sample through the effects, and even resample the entire output to create powerful, multi element samples.
Tempo is an integral element of the KP3. Sampling times are set in terms of tempo, and many effects are also tempo-based. All tempo-related functions are accurate to .1 (one-tenth) of a BPM for more precise matching to external devices. To keep everything sync'd up, the KP3 features auto-BPM detection from the audio input; Tap-Tempo entry, as well as a manual tempo setting. The KP3 can also send and receive tempo information via MIDI clock. This extra versatility allows the KP3 to detect BPM info from a turntable, and in turn provide MIDI clock to other devices down the line, keeping everything moving together.
The KP3 is also a MIDI controller, sending out three controller numbers (why only 3?? -Ed.) from the touchpad, and additional messages from the slider. The Sample Bank buttons send and receive note messages. Program Change commands and clock information can also be sent or received. The inclusion of MIDI IN and OUT allows even the most daring and complex KP3 moves to be recorded and played back by an external sequencer or software sequencing program.
A single USB connection allows the KP3 to share sample data with a computer. An editor / librarian program is included so you can build libraries of samples, and edit them using your computer. The software also allows WAV and AIFF files to be loaded into the KP3, and includes pitch correction for samples not created at 48 kHz. This graphic software is valuable not only for editing samples, but also for creating, editing and saving programs and global data. The stereo inputs and outputs can be set so the KP3 can run in-line to an amplification system, or hooked to the effect loop jacks of an audio mixer.
Specifications:
Effects:
• Filter (Low-pass / High-pass / Band-pass / 72dB/oct. and Low-pass)
• Isolator & Distortion
• Talk-Filter
• Flanger
• 8-band EQ
• Mid Pitch Shifter
• Broken Modulation
• Phaser
• Ring Modulator & High-pass Filter
• Decimator
• Low Compressor
• Auto-Pan
• Slicer
• Delay (Ping-Pong, Multi-tap, Reverse & High-pass Filter)
• Tape Echo
• Reverb
• Gate Reverb
• Grain Shifter
• Vinyl Looper
• Looper Forward / Reverse
• Four-Sample-Bank Cross Fader Roll
• Pad Drum1 / 2
• Unison Saw Bass
• Noise Synthesizer & Looper
• Vocoder/Vocoder M7
• Programs: 128
Categories:
• Filter (16 types)
• EQ (2 types)
• Modulation (12 types)
• Compressor (2 types)
• LFO (25 types)
• Delay (16 types)
• Reverb (6 types)
• Grain Shifter (5 types)
• Looper (13 types)
• Sample Effect (7 types)
• Sample Bank Crossfade (4 types)
• Drums (6 types)
• Synthesizer (10 types)
• Vocoder (4 types)
Sampler:
• Memory: 100 samples (maximum)
• Sampling: 16 bit, 48 kHz
• Convertors: 24-bit A/D, D/A
Inputs:
• Mic (1/4") with trim knob
• Line In L,R (RCA) (still no 1/4″!)
Outputs:
• Headphone (1/4" Stereo) with volume
• Line Out L,R (RCA)
USB: Type B
MIDI: IN/OUT
Data Storage: SD Card
Dimensions: 8.27″ x 8.9″ x 1.93″ (W x D x H)
Weight: 2.87 lbs
Accessories:
• CD-ROM (Editor/Librarian)
• Power supply
• Touchpad protective sheet
The Kaoss Pad 3 will retail for $599 US and be available this Fall. More information on the Korg Kaoss Pad 3