Numerology Releases 1.4.3
Version 2.0 Expected In The Fall
Numerology is a modular sequencing and audio plugin environment for Mac OS X. It takes sequencing and modulation metaphors established by the analog sequencers of the 70's, and implements them in a structured and highly interactive software environment designed for experimentation, improvisation and live performance.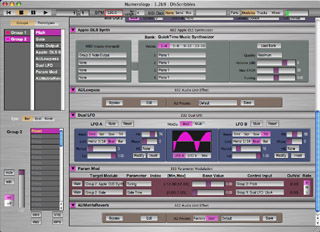 By using Numerology in conjunction with your choice of Audio Unit plugins and hardware synths, you can create an open compositional environment that is truly your own. In the 1.4.3 version support for running under Rosetta on Intel Mac.
The Version 2 is a ground-up rewrite of Numerology and is scheduled to include: Sequencing and MIDI processing modules, an all-new routing page, mixer scenes, a much-revised user interface, improved AU integration, and much more.
More information on Five 12 Numerology