Stanton C.314 CD Player Now Shipping
Stanton has introduced the C.314, a tabletop CD player designed for MP3 DJs who want the ability to scratch CDs like vinyl.
"The C.314 will set a new industry standard in tabletop CD players," declares Henri Cohen, Stanton's VP of Sales and Marketing. "Its MP3 browsing and vinyl emulation capabilities allow DJs to reach a whole new level of performance in CD and MP3 DJing techniques." Yawn…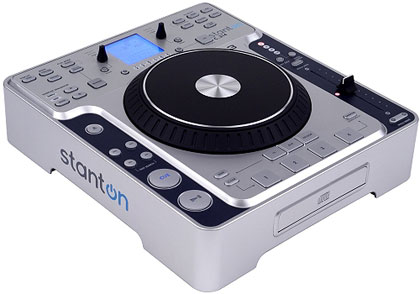 The Stanton C.314 features a large, touch sensitive jog wheel that makes scratching and beat juggling possible with the feel of a turntable. Seamless looping, cueing, and sampling are made possible in the C.314 with four memory/trigger pads located at the forefront of the interface. Cue points and loops for up to 500 discs can be stored within the units memory. The players unique MP3 browser allows the DJ to conveniently scroll though music files without selecting each one along the way. Folder browsing is also a feature of the C.314.
The compact unit includes 7 built-in, high quality DSP effects that can be controlled using the outer jog wheel. The effects include Auto-filter, manual filter, echo, pan, transform, flanger, and phaser. Up to three effects can be used simultaneously. Wow, another tabletop CD Player…just what the market has been clamoring for…