Crystal Method Fuels New Nike Running Soundtrack
Nike and The Crystal Method today announce the release of Drive: Nike + Original Run via the new Sport Music section of Apple iTunes Music Store. Drive is an original soundtrack composed by The Crystal Method to guide athletes through a 45-minute run, from warm-up through cool down.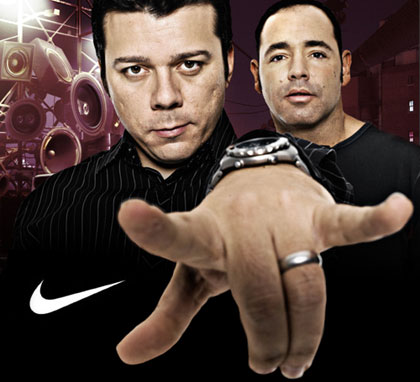 The new album from The Crystal Method will join downloadable coaching mixes from champion marathoner Alberto Salazar on the Sport Music section of iTunes Music Store. Sport Music has been designed as a virtual training partner and destination for athletes. More coaching mixes will be added to the Sport Music section of iTunes Music Store over time.
The unique set-up of the track "Drive" is that it follows the progression of a 45-minute work out. The tempo of the track begins at a slower pace to take the athlete through a gradual warm up, increases pace over the course of the run, and then gradually decreases tempo as part of the cool down.
Crystal Method's Scott Kirkland said: "It's a challenge because usually when we create music, we're focused on what we like and what our fans will like. We're not accustomed to thinking about a particular activity that has to go with the music. For this project, we thought about the movement and the energy that goes into exercising and running and the sort of goal-oriented activity that goes along with working out. When I've worked out…it's always about goals: 'I'm doing the uphill now, I've got four minutes until I get to the goal.' So we created songs that have a lot of dynamic motion to them, songs that go places."
The first product developed through the collaboration between Nike and Apple is the Nike+iPod Sport Kit. The first product developed though this partnership is the Nike+iPod Sport Kit, a wireless system that allows Nike+ footwear to talk with your iPod nano to connect you to the ultimate personal running and workout experience.
With the Nike+ Air Zoom Moire connected to the iPod nano through the Nike+iPod Sport Kit, information on time, distance, calories burned and pace is stored on iPod and displayed on the screen; real-time audible feedback also is provided through headphones. The kit includes an in-shoe sensor and a receiver that attaches to the iPod nano.
After a workout, simply connect the iPod nano to a Mac or PC and with the help of iTunes automatically sync and store workout data in a customized workout log on nikeplus.com. Nikeplus.com helps maximize the experience. You can log workout data, view and evaluate personal training goals, and review distance, time, pace and calories burned all through a colorful, dynamic and easy to use interface.
Consumers can buy the unconventional 45-minute sport soundtrack on Apple iTunes Music Store for $9.99.