Fatman Introduces Fat Fiddler, Analog Valve DJ Mixer
The Fat Fiddler, a fully analog, valve DJ mixer, has been introduced by TL Audio's Fatman. The DJ console features 4 stereo channels and a dedicated mic channel with three band EQ and sweepable mids on each channel. The mixer is manufactured in England using the highest quality components and features 8 valve stages. Fatman claims that depending on how you use the console, you can keep the sound clean and crisp, or choose to drive the valves making the mix sound warmer, fuller, rounder and deeper, especially in the low end.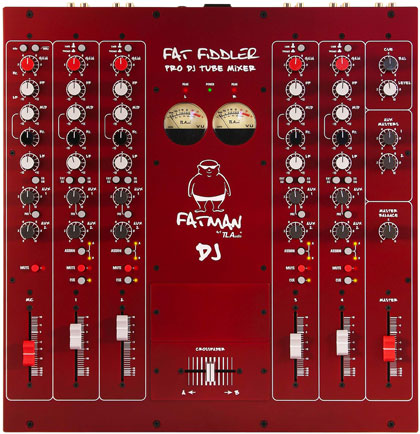 Fatman known for manufacturing large format recording consoles used by Gorillaz, Dizzee Rascal and Morcheeba, decided to develop the ultimate analog DJ console. The Fat Fiddler is especially targeted to CD DJs allowing the console to "give back the analogue warmth that CD's lack."
The mic channel can be used with dynamic or condenser microphones and features 48V phantom power and a 90Hz High pass filter. The stereo channels can be selected to accept line or phono inputs for ultimate versatility. Each input channel features a fat EQ button (which adds a smile curve EQ boost to fatten up the sound) and 2 auxiliaries, selectable pre or post fade.
Using high quality "N Series" channel faders and an industry standard Penny & Giles cross fader, the Fat Fiddler ensures you of smooth, accurate control. Housed in the centre of the Fat Fiddler are 2 removable plates. One of these contains the cross fader which means it can be easily replaced or repositioned to suit the individual user. The other plate is there for a truly unique concept…
The Fatman Fat Fiddler is the first DJ mixer to feature removable, interchangeable modules to allow you to individually configure your mixer. The option modules will slide easily into the space and let you change your mixers features as it suits you. The modules will be available soon and will offer you everything from fully-featured VCF filters to an array of digital effects. Sick!
FEATURES:
• 4 stereo channels selectable line/phono (RCA) with rotary gain control
• Dedicated mic channel with 48V and HPF and rotary gain control
• 4 x 12AX7 ECC83 dual triode valves providing 8 valve stages across stereo channels
• 3 band musical EQ on each channel with EQ on/off select
• Sweepable mids and fat EQ button
• Ideal for use with CDJ decks to warm up sound
• Channel mute facility
• 2 auxiliary sends, 1 with pre/post fade selection
• Aux master section
• Separate Cue master section with balance and level controls
• Balanced master insert points
• Tape out
• Illuminated retro style VU meters
• Penny & Giles assignable cross fader
• Balanced inputs and outputs
• High quality, smooth action N series 70mm channel faders
• Cross fader housed on removable plate for easy replacement and repositioning
Can be used in conjunction with Fatman option modules for user versatility
Pricing and Availability have not been announced. For more information check out the Fatman Fiddler DJ Console website.