Koss Announces The Clef Earbuds With Unique Features
Koss announced the availability of The Clef earbuds. The Clef phones come in a unique keychain pouch with a LED Flashlight, plus the cord is retractable for a clean, no-tangle functionality. We've noticed many new "Cord Management Systems" coming to market lately including the Pakatun iPod Shuffle Hat and the Cableyoyo POP.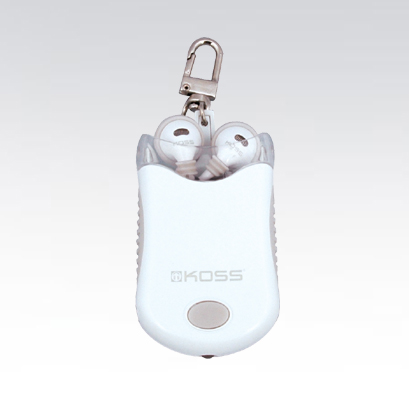 "Never be without your headphones again" is Koss' pitch. Looking around today, everyone seems to have a a set of earbuds or headphones trailing out of their ears. Cord management is the new frontier since dealing with unruly and tangled cords is the bain of the iPod Generations' existence. Koss decided that as long as you're going to be carrying a digital music player, you should always have a set of earbuds at your disposal.
The Clef earbud is ultra-lightweight and features an electro/dynamic element for an extended frequency response of 40-20,000 Hz. (These specs are suspect –Ed.) The retractable cord mechanism allows the user to adjust the cord to a customized length. The unique carrying case also features a key chain for maximum portability for on-the-go listening. With the touch of a button, the LED flashlight provides a stream of light in dark environments.
Frequency Response: 40-20,000Hz
Impedance: 32 ohms
Sensitivity: 100 dB SPL
Distortion: <1.0% TOTAL Cord Straight, Dual Entry, 4ft max length Price: $19.99US