Sony Unveils iPod Nano Killer
Sony has announced the NW-A1200 Network Walkman MP3 player, an 8GB dealio that has double the capacity of the Apple's iPod Nano. As we reported on earlier, the player will also be the first Sony digital audio player to support files in the AAC format, the file format used by the iTunes Music Store.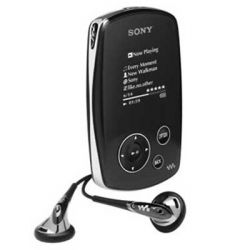 A price has not been announced. The NW-A1200 will be released worldwide in sometime in June.
The Future: 20+ hours of true battery life and double the storage may not help Sony re-establish itself as the dominant portable music player. The ability to play AAC files is no great attribute since the NW-A1200 cannot play AAC tracks that have been purchased on iTunes. In addition, Sony's marketing has floundered by not coming up with a new snappy name or a slickly branded advertising campaign. The NW-A1200 will be a sales dud.