Apple Reveals New 13″ MacBook
Apple Computer unveiled the newly designed MacBook, the successor to the iBook, featuring the Intel Core Duo processor and a new 13-inch glossy widescreen display. The new computer is up to five times faster than the iBook and up to four times faster than the 12-inch PowerBook. Together with the 15-and 17-inch MacBook Pros, the new MacBook completes Apple's Intel-based laptop lineup and replaces both the iBook and the 12-inch PowerBook. Apple's entire portables lineup now offers Intel Core Duo processors; a built-in iSight video camera for video conferencing; Front Row media experience with Apple Remote; and several advanced features including DVI with dual display support, optical digital audio input and output, Gigabit Ethernet, Sudden Motion Sensor, Scrolling TrackPad and MagSafe Power Adapter.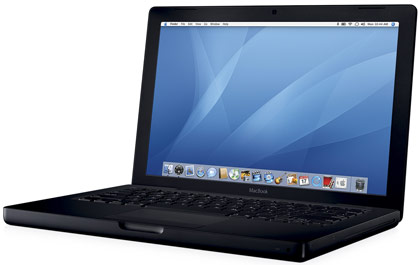 The MacBook lineup includes three models: a 1.83 GHz and 2.0 GHz MacBook in a newly designed, sleek white enclosure and a 2.0 GHz MacBook in a stunning new black enclosure. The new MacBook offers a completely new system architecture including a 667 MHz front-side bus and 667 MHz DDR2 SDRAM memory expandable to 2GB. At about one-inch thin, the new MacBook is 20 percent thinner than the iBook and features a new 13-inch glossy widescreen display. With a display that is 79 percent brighter than the iBook and the 12-inch PowerBook, the MacBook provides incredibly crisp images with richer colors, deeper blacks and significantly greater contrast. At a resolution of 1280 x 800, the MacBook display provides 30 percent more viewing area than the iBook and the 12-inch PowerBook. Prices start at $1099 for the base white model and $1499 for the Batman Black model.
The digital audio I/O will be very enticing to laptop musicians and DJs who were looking for a high-fidelity output. However, the performance artist will still have to drag out a dedicated sound card for Digital To Analog conversion.
Specs:
The MacBook:
Apple Remote
60W MagSafe Power Adapter, AC wall plug and power cord
Lithium-polymer battery
Install/restore DVDs
Printed and electronic documentation
Processor and memory
1.83GHz or 2.0GHz Intel Core Duo processor
2MB on-chip shared L2 cache
667MHz frontside bus
512MB of 667MHz DDR2 SDRAM (PC2-5300) on two SO-DIMMs; supports up to 2GB
Storage:
60GB or 80GB 5400-rpm Serial ATA hard disk drive; optional 80GB, 100GB or 120GB drive2
One of the following Optical Drives:
Slot-loading Combo drive (DVD-ROM/CD-RW): reads DVDs at up to 8x speed, writes CD-R discs at up to 24x speed, writes CD-RW discs at up to 16x speed, reads CDs at up to 24x speed
Slot-loading SuperDrive with double-layer read support (DVD+R DL/DVD±RW/CD-RW): writes DVD-R and DVD+R discs at up to 4x speed, writes DVD-RW and DVD+RW discs at up to 4x speed, reads DVDs at up to 8x speed, writes CD-R discs at up to 24x speed, writes CD-RW discs at up to 10x speed, reads CDs at up to 24x speed
Graphics and Video Support:
Intel GMA 950 graphics processor with 64MB of DDR2 SDRAM shared with main memory1
Extended desktop and video mirroring: Simultaneously supports full native resolution on the built-in display and up to 1920 x 1200 pixels on an external display, both at millions of colors
Built-in iSight camera with 640-by-480-pixel resolution
Mini-DVI port
DVI output using mini-DVI to DVI adapter (sold separately)
VGA output using mini-DVI to VGA adapter (sold separately)
Composite and S-video output using mini-DVI to video adapter (sold separately)
Communications:
Built-in 10/100/1000BASE-T Gigabit Ethernet (RJ-45 connector)
Built-in 54-Mbps AirPort Extreme wireless networking (based on 802.11g standard)
Built-in Bluetooth 2.0 + Enhanced Data Rate (EDR) up to 3 Mbps
Optional external Apple USB Modem
Audio:
Built-in stereo speakers
Combined optical digital audio input/audio line in (minijack)
Combined optical digital audio output/headphone out (minijack)
Battery and power:
55-watt-hour lithium-polymer battery with integrated charge indicator LEDs
60W MagSafe Power Adapter with cable management system
MagSafe power adapter port
Display:
13.3-inch (diagonal) glossy widescreen. TFT display with support for millions of colors
Supported resolutions: 1280 by 800 (native), 1152 by 720, 1024 by 768, 1024 by 640, 800 by 600, 800 by 500, 720 by 480, and 640 by 480 at 16:10 aspect ratio; 1024 by 768, 800 by 600, and 640 by 480 pixels at 4:3 aspect ratio; 720 by 480 at 3:2 aspect ratio
Peripheral connections
One FireWire 400 port (up to 400 Mbps)
Two USB 2.0 ports (up to 480 Mbps)
For more information: Apple MacBook