New LightSnake USB Cable/Sound Card
Sound Card in a Cable Simplifies Digital Audio Recording
SoundTech Professional Audio, a division of US Music Corporation, announced the release of LightSnake, an intelligent instrument-to-PC cable with embedded analog to digital converter and signal booster. The LightSnake USB's unique design enables anyone to plug their guitar, bass, keyboard or other electronic instrument directly into a PC eliminating the need for a sound card completely.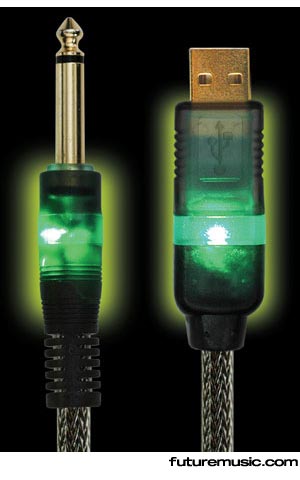 The LightSnake USB intelligent instrument cable was the "buzz" at the past NAMM show. Lauded for its ability to provide a streamlined, cost effective solution for analog to digital recording, the LightSnake had many at the show shaking their heads in disbelief.
"The LightSnake USB was designed to enable anyone to enjoy digital recording," said Larry English, senior vice president of business development at US Music Corp. "Using the LightSnake, setting up and recording high-quality digital music is as simple as plugging a guitar into an amplifier."
Modern Digital Audio Workstation (DAW) software such as Apple GarageBand and Sony Acid Music Studio harnesses the power of PCs allowing musicians to record, layer and mix their own musical creations. The LightSnake USB provides the easiest method for musicians to connect their instrument to their computer for recording by simply plugging the ¼" tip of the LightSnake in to the instrument and the USB end to a PC.
SoundTech LightSnake USB intelligent instrument cable features:
• Digital quality sound input without the need for a sound card
• Embedded A/D chip technology with audio signal boost eliminates the need for additional signal conversion devices
• Patented "Live when Lit" technology cable ends light up indicating when sound is being transmitted
• 10 foot heavy-duty shielded cable
• Includes 1/4″ to Mini Adaptor and 1/4″ Male to Dual 1/4″ Female Splitter
• Simple USB plug-and-play connectivity
• Compliant with USB 2.0 Full Speed Operation
• Compliant with USB Audio Device Class Specification v1.0
• Compatible with Win98 SE / Win ME / Win 2000 / Win XP and Mac OS9 / OS X without additional driver
• Driver software included for older non-plug-and-play compliant computers
The patented LightSnake USB intelligent instrument cable will be available through major music retail outlets in May 2006 with a suggested retail price of $69.99.