Numark Unleashes Another Round Of New Products
An explosion of new offerings in just three short months…
Numark is on a tear. The manufacturer has debuted close to a dozen new products since the NAMM show in January and shows no signs of stopping. We sat down with Director of Marketing Gregg Stein to discuss their new products and how Numark has been able to address emerging market niches more effectively than most of their competitors. Stein has only been with Numark for nine months, but has a comprehensive view of the market and a keen eye as to where the industry will be moving in the next few years.
At the January NAMM show, Numark was promoting half a dozen new products including the X2 Hybrid, something that we've been waiting for since the debut of the CDX CD turntable. The X2 Hybrid is the perfect combination of a vinyl turntable and a CD turntable. With its high-torque direct drive motor, aluminum platter and fully adjustable tone-arm. it behaves just like your beloved 1200, but now you can front-load a CD and utilize the same vinyl mixing mechanics. Just awesome! Unfortunately, the new X2 loses the useful built-in effects from the CDX, but it does retain the "Beatkeeper" BPM counter and 3000 cue-point memory. It can play standard and MP3 CDs and the firmware is upgradeable for future enhancements. The X2 will be available in June for $1499.


The Numark HDX and X2

Speaking of the CDX, Numark also announced the HDX, a CDX on steroids. The HDX is one of the most advanced DJ turntables available with USB 2.0 ports, an 8X CD reader, and an onboard 80 GB hard drive that
supports MP3, WMA, and WAV media formats. Numark also upgraded the look of the unit with a sleek silver design and blue lighting effects. The hard drive is upgradeable and you can load songs via USB,
ripping CDs or via the Record Input on the back, nice! Unfortunately Numark didn't lower the HDX's weight, 22 pounds, so you'll want to add a Gym Membership to the cost. It will be available sometime
in May for $1899.
In our discussions, Mr. Stein feels that the emerging VJ market would be driven by DJs wanting to add video to their mixes and not necessarily VJs being recognized in their own right. "Many of our video products like the VJ01 are designed for the DJ who wants to add a video element," Stein observed. While this outlook may not sit well with struggling VJs who have done everything possible to get the appreciation they deserve, it is an astute assessment of the market. Many clubs have been resistant to installing expensive video systems since it is indeed a DJ driven market. In other words, talented VJs have yet to demonstrate that they can put "butts in seats" in the US. However, by giving DJs the right tools to incorporate video into their performances, Numark is actually giving the VJ market a major leg up and helping to spearhead a visual movement that other companies such as, Edirol and Korg are also vigorously promoting.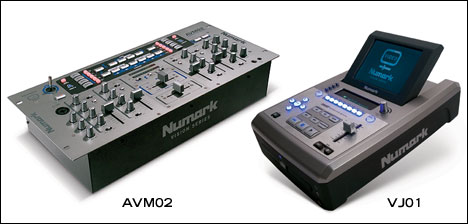 The Numark AVM02 and VJ01

Numark's new VJ01 is the next step for making this a reality. By including a 5.6 inch TFT screen into a tabletop DVD/CD/MP3 player, the VJ01 hopes to bridge the gap from VJ to DJ. DJs no longer need elaborate video mixers or expensive and dedicated monitors to cue up visual mixes. The all-in-one VJ01 features a single pitch slider for both DVDs and CDs, PAL & NTSC compatibility, seamless looping, and several built-in effects. The unit has a very ergonomic, uncluttered layout, and the TFT screen tilts upwards for use or lays flat for transporting. The VJ01 will be available in April for only $699!
And just when you thought it was safe to go back into the DJ booth, Numark drops another six new products at MusikMesse…
In the first three months of 2006, there's been nothing short of an explosion of new products from Numark; we asked Gregg Stein, Director of Marketing, how the company can possibly conceive, develop and manufacture so
many relevant and dynamic products in such a short time. "That's easy: we listen to our customers," Stein replies. "For example, when the iDJ we introduced last year caught like wildfire. We knew it would because technology has fundamentally changed the DJ scene, and iPods are an important part of that tectonic shift. But we also knew we'd have to follow it with an even better product. Right away, customers told us they loved mixing with the iDJ but wanted real-time scratch, pitch, seamless loop and full cueing capabilities. So we delivered that with the iDJ2."
So how can a company that was usually content with just a few new product announcements a year, turn on a dime and pump out several provocative new offerings in just a few short months? "We have a clear direction from Jack O'Donnell (Numark's CEO -Ed.), whose vision for Numark is to create products that blend new technology with traditional music making and DJing," Stein elaborates. "This means that our marketing, engineering, and salespeople work closely together to find out what customers want, implement the technology and get it into stores."
MusikMesse Announcements:
HDMix
At the core of the HDMIX is an 80 GB replaceable integrated hard drive with a built-in, high-speed CD drive. The CD drive is included for performance playback and ripping music directly to the internal hard-drive eliminating the need for DJs to transport CDs. The HDMIX includes USB 2.0 and is compatible with both MAC and PC computer platforms. The HDMIX allows the user to record directly to the hard drive from any input source, including the ability to record a live performance in real time. The HDMIX provides full support for MP3, WMA, WAV, Ogg Vorbis, and FLAC (lossless) formats, enabling DJs to dramatically reduce the "schlep" factor.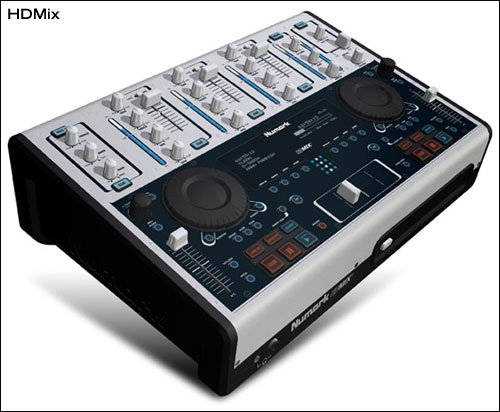 The Numark HDMix

The new HDMIX Station offers track search by artist, album, song, genre, and BPM. It incorporates a professional three-channel mixer with Metering, Gain and EQ controls on each channel. Additional inputs are provided for connecting additional line sources or turntables. Outputs include master XLR balanced as well as unbalanced and booth outputs.
Highlights:
User replaceable 80 GB HD
A 3 channel professional mixer with EQ and Gain on each channel
CD drive for ripping and CD playback
One display area controls all of your music
Support for MP3, WMA, WAV formats
Large jog wheels for pitch and scratch control
Beatkeeper technology with auto-synchronization of loops, effects, and MIDI devices
Track search by artist, album, song, genre, and BPM
Automatic track identification and naming through Gracenote
Record to hard drive while performing
Create custom playlists while performing
Large jog wheels for pitch and scratch control
Keyboard included for fast searching
XLR and analog RCA line outputs
Mac/PC compatible
HDMIX will be available in July for $1999
Virtual Vinyl
Virtual Vinyl is Numark's premier DJ hardware and software solution that lets you scratch, mix and sample digital audio and video files using your computer and any analog turntable or CD player. Using the included Control Vinyl or Control CDs on a traditional turntable or in a standard CD player, a DJ can control digital media content utilizing the same DJ mixing mechanics. Virtual Vinyl provides in-depth features including; master tempo, seamless looping, instant pitch matching, automatic beat-matching, BPM-aware effects, hot-cues, sampling, and more.

Numark finally comes up with an answer to FinalScratch and Serato

The software includes two independent zero-latency virtual decks, seamlessly controlled by the aforementioned Control CDs/Vinyl. Virtual Vinyl can play any digital audio file including; MP3, MP3Pro, WAV, AIFF, direct CD, WMA, Ogg Vorbis, MP4, non-DRM AAC, and more. Virtual Vinyl is compatible with music subscription services such as Yahoo! Music Unlimited, Virgin Music, Napster Music, and others.
Highlights:
Video sample playback, looping, and effects from multiple sources
Visualizer: Internal generation of dynamic patterns and backgrounds
Sync to Audio Input or internal BPM generator
Processing of external camera or other video input
MIDI compliant – can be used as controller for various devices
Various cross-over patterns and functions
Automated play for stand-alone operation
Library of small movies, pictures & graphic sets
2 banks of 9 sets of trigger pads for video
Big wheels for scratch, effect, and speed control
Automated one touch fade speeds
Real time effects generation
Virtual Vinyl will be available in July for $699
iDJ2
The iDJ2 features an innovative new iPod docking system that allows users to play two songs simultaneously from a single iPod, without the need of a computer. Users can also hook up multiple mass storage devices including additional iPod's, Memory Sticks, and external USB hard drives through rear panel USB ports.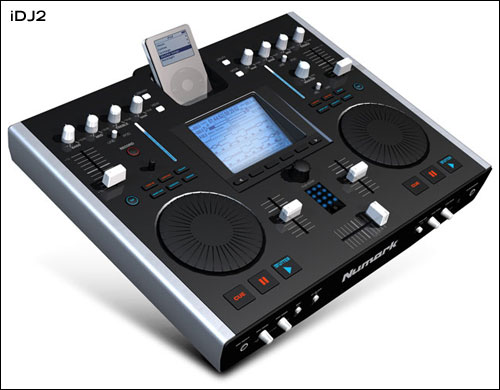 The sequel that all serious DJs have been waiting for…

In addition to USB connectivity, the iDJ2 comes complete with line inputs for any audio source including a microphone, CD players and turntables. Anyone can easily manage a music library using the iDJ2's new, highly intuitive graphic interface. The oversized LCD screen offers waveform display and visual track-profiling. The iDJ2 allows DJs to record their musical performances to the iPod or any connected drive, in addition to full control audio play back.
Highlights:
Seamless looping
Pitch control
Large backlit display
Ability to scratch music
Mix up to 3 iPod's or USB sources
Track Profiles and Waveform display
Integrated iPod slot with adjustable mount
Record to an iPod or other connected USB media
XML playlist support, USB Keyboard support
Formats supported: mp3, ogg vorbis, FLAC
Pitch control with multiple ranges up to +/- 100%
Beatkeeper technology with TAP override function
Scratch and search ability via two large jog wheels
Play music off two iPods simultaneously, play two songs off same iPod
The iDJ2 will be available in August for $699
iCDX
This performance-oriented media player includes DSP effects, a touch sensitive scratch wheel, automatic BPM counter, a digital output, and a large LCD screen.Associated with the iCDX's pitch function is Key Lock – with a range of +/- 100%. For working with tempo, the iCDX give DJs all the control they could possibly want. This powerful player provides an automatic BPM counter, and a manual tap function. Further, the feature-packed iCDX includes a generous assortment of integrated, great DSP effects, including Phaser, Filter, Flanger, Echo, Chop, and Pan.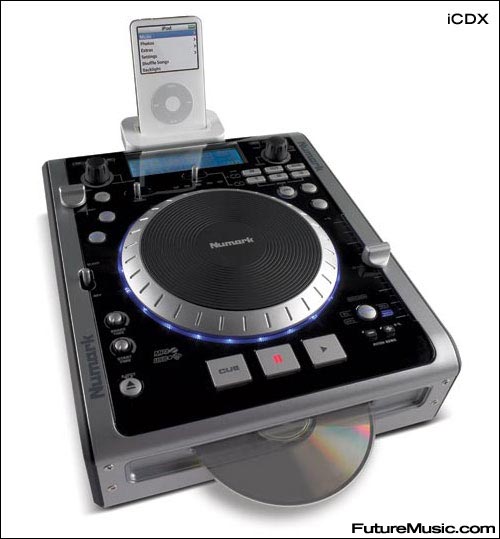 Numark's versatile iCDX

With its extensive USB mass storage connectivity, the iCDX can be used as a vehicle to manipulate and store MP3 files, facilitating rapid access to a massive music library. To further its USB connectivity, the iCDX comes complete with an adaptable docking station for Apple's iPod. When used with personal computers and software, the iCDX can interface with a wide variety of popular DJ software packages. Complete with an illuminated CD/DVD drive for playing multiple disc formats and support for MP3, including ID tags, hot starts, seamless looping, and scratching, the compact iCDX offers DJs a higher level of control for playing music.
Highlights:
USB for connecting mass storage hard drives, memory sticks and iPods
Integrated DSP effects include Phaser, Filter, Flanger, Echo, etc.
Illuminated slot-load drive with support for CD/CD-RW/DATA DVD
Large pitch slider for controlling music playback speed
Hot starts, seamless looping, scratching and sampling
Large, backlit LCD display for system information
Touch-sensitive scratch wheel
Automatic BPM counter
Digital outputs
The iCDX will be available in July for $799
D2 Director
D2 Director is a single rack-mountable console featuring an extra large LCD display that contains a new user interface. The plug and play design allows the user to simply search for music on any USB mass storage device and add songs to a single master play list. Using the single master play list, songs are automatically directed to two built-in play control surfaces, ultimately simplifying the DJ performance experience.

Numark's New D Squared Director

D2 Director is complete with a ground-breaking graphic user interface which includes real-time visuals of track profiles and waveforms. Six soft touch buttons around the D2 Director's display screen provide the DJ with control over a variety of features such as effects, song management, and hard drive management. The D2 Director includes one USB connector on the front panel and two additional USB ports on the rear panel which can be expanded through the use of a USB hub. The USB connectivity delivers a wide variety of music storage and sourcing options. This includes, but is not limited to, linking the D2 Director to the mixologists' iPod, Memory Stick media, and external USB hard drives. The DJ could also add a computer keyboard for simplified song search. In addition, the rear panel includes line level outputs for both players and a record input. D2 Director supports MP3, Ogg Vorbis and AAC formats.
Highlights:
Support for iPod, Memory Stick media, and external USB hard drives
Large backlit display with revolutionary user interface
Scratch and Search ability via two large jog wheels
Beatkeeper technology with TAP override function
Real-time visuals include Track Profiles and Waveforms
Pitch control with multiple ranges up to +/- 100%
Record to an iPod or other connected USB media
USB Keyboard support and XML playlist support
USB connectors on both front and rear
Seamless looping, stuttering
3 unit rackmount console
The D2 Director will be available in August for $899

NuVJ

The NuVJ allows DJs to incorporate images and video clips in much the same way as mixing music. With the NuVJ, the VJ can trigger images and video clips, add effects to them, mix them through an onboard DJ style crossfader and tweak them in order to create unique and spectacular shows. The hardware controller works seamlessly with existing DJ gear and the software, Arkaos VJ 3.5, is compatible with most computers and laptops. The NuVJ is simply easier, better and more affordable than any other VJ product on the market.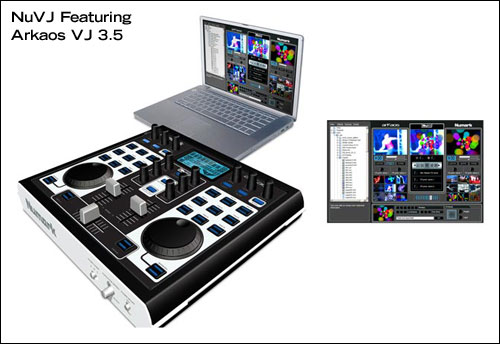 The NuVJ features Arkaos VJ software

Highlights:
Video sample playback, looping, and effects from multiple sources
Automated play for stand-alone operation
Internal generation of artificial patterns and backgrounds
Synchronization to audio in or internal BPM generator
Processing of external camera or other video input
Real time effects generation
Various cross-over patterns and functions between at least two Visual/EFX combinations
Library of small movies, pictures, graphic sets supplied
2 banks of 9 sets of trigger pads for video
Big wheels for scratch, effect, and speed control
Automated one touch fade speeds
MIDI compliant – can be used as a controller
The NuVJ will be available in July for $499.
The Future: Futuremusic feels that Numark is really firing on all cylinders right now and we're very bullish on the company. If O'Donnell and Stein can continue to position Numark's category defining products ahead of the market, then Numark is going to enjoy tremendous company growth. Gregg Stein is feeling it too. "We are leading the high-tech musical revolution. We want the right technology in the hands of every professional and aspiring DJ and musician in the studio, at home and in the clubs. This may sound like a lofty goal, but at the end of the day we hope to bring the right products, at the right price, with user friendly features, to all our customers." For more information visit Numark.com