Cheers:


+Audio Quality
+1080p recording
+Audio metering
+Auto-Gain
+GUI


Jeers:


-Big Size
-Expensive
-Battery Life
-Required Accessories Not Included
-USB Arm A Little Too Short



Off The Record:


"I don't know exactly what pocket Samson thought this pocket video camera was going to fit into."
--Greg Geller


"Samson's attention to the small details, like the audio metering and graphical user interface, are quite savvy, unfortunately they seemed to have lost their concentration when it came to providing the required accessories."
--Dan Brotman


"Everything an audiophile you could ask for in a portable video camera."
--Andrew Jones


"The plastic viewfinder screen scratched way too easily and will become issue after only a few months of ownership."
--Karen Wright

"The USB arm was about a centimeter too short in my experience."
--JT Zimmerman











April 26, 2011
../ TestDrive: Samson Zoom Q3HD Review
When Samson's Zoom Q3 HD hit our shores, our reviewers lined up to sign the portable high-definition pocket video camera out for an evaluation. The reason is clear. The Zoom Q3HD addresses sound quality, a feature that every other pocket video manufacturer has neglected to date.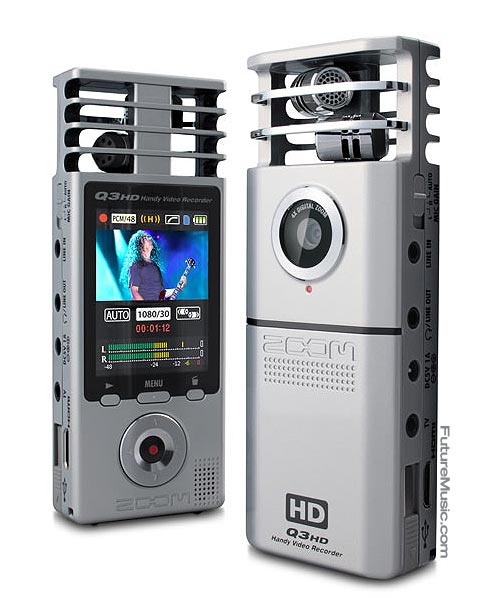 Samson's Zoom Q3HD is quite a looker...

Samson's market research obviously saw a need for quality audio, since almost every review of pocket video cameras cites "poor audio" in the Cons area of their evaluations. Samson decided to marry their expertise in affordable field recorders with portable HD video to deliver the Zoom Q3 HD. However, instead of collaborating with a known quantity such as Cisco's Flip division or Sony, the company decided to tackle the video alone. The result is exactly what you'd expect, the best audio of any pocket video recorder with acceptable video quality.
True 1080p
It's not that Samson didn't neglect the video, they provide true 1080p, 30fps video (as well as 720p, 60fps; 720p, 30fps; WVGA, 60fps; WVGA, 30fps options), but mediocre low light performance, no image stabilization, no macro, no autofocus and a lack of quality glass in the lens hurts the quality of the video. The Zoom Q3HD records in MPEG 4 AVC / H.264 and saves its files as Quicktime .MOV. These files import natively to YouTube and iMovie which streamlines uploading and editing respectively.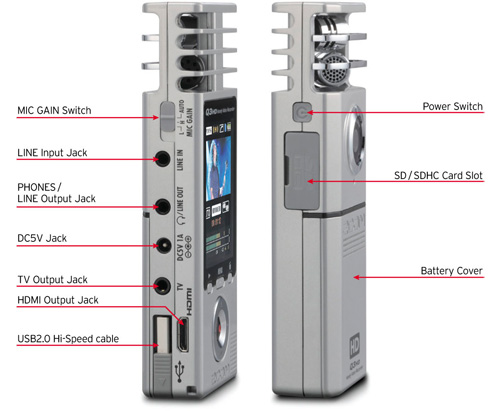 Samson didn't skimp on the Q3HD's connectivity options
Features:
» Built-in stereo condenser microphones with 120° X/Y configuration for true stereo imaging
» Video resolution of 1080p at 30 fps / 720p at 30 or 60 fps
» WVGA (standard definition) at 30 or 60 fps
» 45 minutes of 720p at 30fps video with 2GB SD card
» Accepts SDHC cards up to a 32GB
» 7 hours of 720p at 30fps (Audio at AAC192 kbps)
» 2.4-inch 320 x 240 color LCD display
» Built-in NTSC/PAL TV and HDMI output
» 4x digital zoom
» Video format: MPEG-4 AVC/H.264 (MOV)
» Audio formats: 44.1/48/96kHz 16/24-bit WAV (PCM) or AAC up to 320kbps
» Auto Record Level automatically sets audio levels during recordings
» Uses two standard AA batteries or NiMH rechargeable batteries
» USB 2.0 with built-in cable
» Windows and Mac OS compatible
» Built-in speaker and tripod mount
» Includes HandyShare editing and, YouTube uploader software, Apple Quicktime, 2GB SD card, two AA batteries
» Optional accessory package (APQ-3HD) includes soft shell case, windscreen, AC adapter, HDMI cable, AV cable and tripod




Audio Powerhouse
The Zoom Q3HD tips the scales at 5.3 ounces and measures 5.2" Height by 1.9" Width by 0.9" Depth, which is significantly bigger than competitors. The obvious reason is the cage on top of the recorder that houses the two criss-crossed condenser microphones (Unidirectional - 120 degree spread). Samson calls this "3D" sound, we'll just call it stereo, thank you. It works well and can achieve true doppler effects with ease (see below). Samson knows audio and didn't hold back when it came to the Zoom Q3HD. It can record up to 24bit/96kHz quality, as well as the compressed AAC format down to 64bit. (PCM: 16/24bit - 44.1/48/96kHz. AAC: 64/128/192/320kbps). Lots of options, which our reviewers found to "handle any audio/video situation" they could throw at it, except "low light challenges."






Samson included an auto-gain feature on the Zoom Q3HD, an adroit move that passed our "Subway Test" with flying colors. We took the Zoom Q3HD into a metro station and positioned the Q3 parallel to the tracks. When a train approached, we hit record with the auto-gain activated. As the train exploded into the station, the Zoom Q3HD gradually manipulated the gain without sounding too artificial, a poorly designed auto-gain feature would "pump the audio." The Q3HD not only handled the audio impact, but also provided an excellent stereo doppler effect that made the video much more visceral.



Plenty Of Storage, But Battery Life Disappoints
Built-in memory is only 2GB, but Zoom augments the capacity with SD/SDHC Card expansion up to 32GB, which claims to record up to 7 hours with AAC 192bit audio — although, all together now: your mileage may vary. Where you won't get much mileage is battery life, which only provided a mere 2 hours of recording time from two AA batteries. That's right, no USB recharge action. "Unlike some of the others, I didn't mind the AA battery requirements, since I could use rechargeables, and it gave me greater latitude in the field, but I only got about two hours of recording time out of a pair...and that is just not acceptable by today's standards."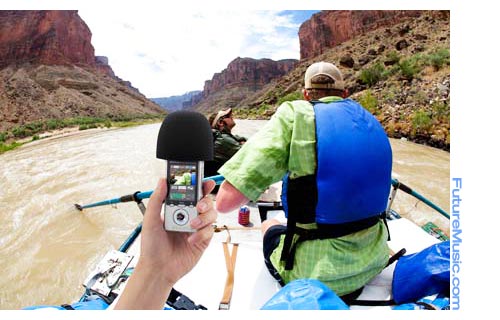 Zoom's ill-fitting wind screen gives new meaning to the term "Muffin Top"

For a pocket video/audio recorder, the interface is quite good. "I love the additional thought Samson put into the Q3 HD's menus and navigation, but the standout is the audio metering," observed one reviewer. The color-coded, stereo bar meters, positioned horizontally across the bottom of the viewer, are the best we've seen in this video class, and even bests other entries in the pure portable digital recorder class, which often only sports a monochromatic display that can be hard to read in challenging lighting situations. Thanks to the high-intensity, color metering, which really pops in every ambient light environment, you always know precisely what levels you are achieving. One drawback is the video display, which reduces to about two-thirds of it's size — 2.4" to 1.5 — when recording. "I don't know exactly why there's a reduction in screen size when recording, except that maybe Samson is trying to support Reading Glasses industry," joked one evaluator.

The Zoom Q3 HD does not skimp on connectivity options. The unit includes a mini stereo (1/8") input jack for an external microphone, a stereo mini headphone jack, the obligatory swing-out USB arm, and a mini-HDMI connection for hooking the Zoom Q3 HD to a high-def television. Our reviewers quickly established a love/hate relationship with the mini-HDMI jack. "I love the idea of a HDMI connection, but why Zoom decided to make it a mini-connection that requires a specialized cable is baffling to me. Worse still is that Zoom didn't include the cable with the camera and made it an expensive option." The external microphone input also made us scratch our heads. The major value proposition of the Zoom Q3 HD is the quality on-board mics, so why include a mic input? A better choice would have been to eliminate the input and provide a standard HDMI connection.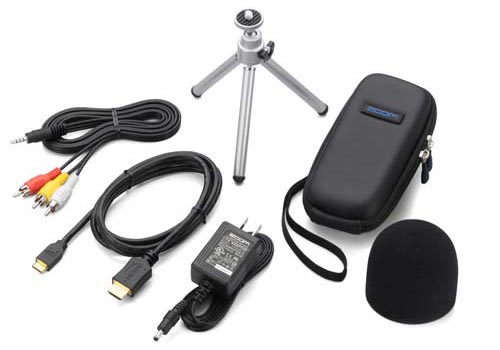 Zoom's accessories come at an additional price, but don't expect quality

Another miss, that was noted by the majority of our reviewers, was the absence of a wind screen. Again, this is included in the accessory pack, but should have really been included in the package. Worse still is that the wind screen is ill-fitting and betrays the slick design of the device. The accessory pack includes the mini-HDMI to HDMI cable, a mini-tripod, an AC adapter, a protective case, the wind screen and an AV RCA to mini jack cable for $40. Many users felt that quality of the case and tripod was not up to Zoom's standards, the "cheap tripod broke after only a day's use."
Conclusion:
All in all, the Zoom Q3HD is a compelling portable digital video recorder solution for consumers who desire an enhanced audio experience. The device's size, battery life and expense tarnish some of its shine, but if you're looking for an all-in-one solution for video and audio recording, the Zoom Q3HD is certainly worth a look.





The Future: Samson has a terrific product on their hands with the Zoom Q3HD, but if they could improve a couple of attributes, then this pocket video/audio recorder could become a class leader. First on their list should be the video quality. Not that the video quality of the Q3HD is a problem, but the addition of image-stabilization, macro and auto-focus would allow it to directly compete with competitors such as Sony's Bloggie. Battery-life is somewhat of an achilles heel for the Zoom Q3HD. Coming in at just under 2 hours is just not acceptable. Granted the batteries are taxed with the external mics, viewfinder and GUI, but two hours in the field could be enough of a turnoff to push consumers in another direction. Finally, include a quality wind screen and mini-HDMI cable. Consumers are used to now paying extra for a tripod and AC adapter, but these other two items should be in the box. And if you are going to offer a Zoom-branded accessory pack, make sure they don't tarnish your brand-equity with cheap, inferior products.

Samson's Zoom Q3HD retails for $549 and is available now. More information on the Zoom Q3HD.


>>> Buy the Zoom Q3HD Now! For $295!




Advertise on FutureMusic.com! | Privacy Policy | Employment Opportunities | Contact Us
Copyright © 2011 FUTUREMUSIC® All Rights Reserved.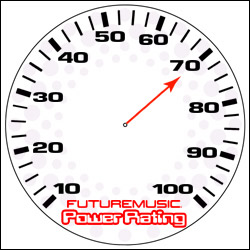 A compelling portable video camera from Samson, but it does have some drawbacks...