Cheers:


+Features
+Value
+Ease-Of-Use
+Quality
+Portability
+Design


Jeers:


-No all clip stop button
-Pads don't transmit velocity



Off The Record:


"The grid oriented mixer control will not be attractive to many potential customers, but I assure you that's it's not only very usable, but also creative for performance as well"
--Greg Geller


"The Launchpad can really take a beating. For a test, I bungee-strapped the Launchpad to the back of my motorcycle and took a trip from our sound lab to our office in the city. Potholes, frost heaves, bumps and more! Although, "cushioned" by the passenger seat, the Launchpad, definitely got launched about! When I plugged it in. Worked without a hitch!"
--Dan Brotman


"Brilliant!!"
--Garth Fields


"What I love about the Launchpad most is that it's truly portable. A real backpack controller that you can just toss in with no worries about knobs or faders breaking loose"
--Simon Davidson


"I've ganged two Launchpads together and with Novation's Automap Pro, there's almost nothing I can't control"
--Neville Carrol







April 19, 2010
../ TestDrive: Novation Launchpad
Novation recently released a dedicated Ableton Live Controller to compete against the Akai APC40 for the fervent Live user base. Although both share the grid paradigm, Novation took a slightly different tact in their Launchpad design that we feel paid off during our long term test, which involved five different evaluators. For a simple controller, the Launchpad certainly has a lot of depth that we uncovered during our 12 week test. This versatility, not to mention the $199 street price, gives it a competitive advantage over the Akai.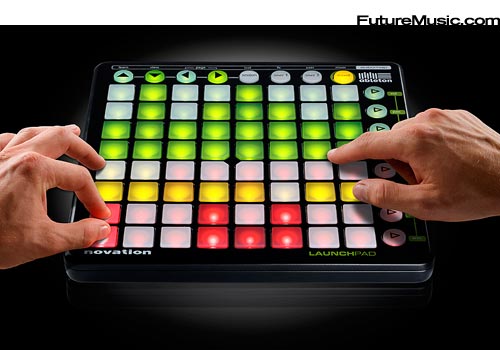 Not too big, not too small, the Novation Launchpad is the perfect size for gigging

The Launchpad is a compact, square-shaped device that only contains a grid of 64 soft square buttons that are outlined by 16 circular "control" buttons, no knobs or faders. While the decision is certainly a departure from the typical mixer metaphor, it pays major dividends in terms of backpack portability. After three months of pounding from our reviewers, the Launchpad came out of the beatdown with only some minor flesh wounds on the outside of its hard-plastic chassis. Impressive considering the Launchpad traveled on subways, buses, airplanes and even on the back of our Editor-In-Chief's taunt Aprilia sportbike (see "Off The Record").

The Launchpad comes bundled with the light beer version of Ableton (LE) and some sample action from Loopmasters. Setup was a breeze on Windows, but did present some hurdles for two of our reviewers on Mac OS X with the drivers actually having to be installed twice for the device to kick in. The Launchpad is also supported by Novation's Automap technology for customizing the controls or setting up the device to control additional software. One of our reviewers utilized it for customizing the Launchpad to work with Vestax's VCM-600. Once rocking, the Launchpad is a breeze to use with Live thanks to its straight-forward and intuitive design.

Features:
64-button clip grid with dedicated scene launch buttons
Extremely portable
Robust construction
Mixer with Pan, Volume and FX Sends
LED status indicators
Gang up to six Launchpads together
Bidirectional communication
USB Powered
1 GB of Loopmasters Samples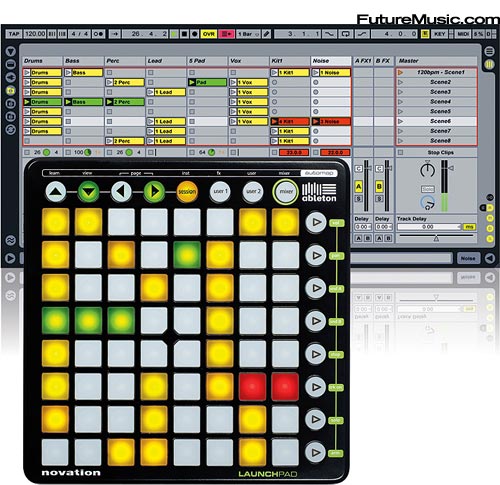 The Launchpad features bidirectional communication between the computer & controller

The Launchpad has four user modes, Session, Mixer, User 1 and User 2, which are accessed via the circular buttons on the top row. Session is the mode that most users will access the majority of the time, since its the most obvious use of the grid analogy. The pads allow you to activate clips with a single button press. Each pad lights up with a status color, green for clip playing, amber for clip in standby, red for recording and unlit for no clip in that grid slot. Due to the fact that the "drum machine-like" pads don't provide a definite "click," a couple of our reviewers found this to be an "interface miss." The others dismissed this gripe, citing the status color indicators.

The vertical buttons on the right side launch entire "Scenes," an obvious choice, but there are "no dedicated, or button combinations for stopping all clips at once." To perform this function, you have to quickly shift to Mixer Mode, and then jump back to Session to begin building up your track again. While you don't have to have acrobatic training to accomplish the above feat, it "certainly would have been a self-evident addition if they would have had more time to actually perform some marketing testing prior to rushing it out for the holiday shopping season," one evaluator concluded.

The Launchpad also contains two completely customizable User Modes. The first comes preloaded with support for Drum Racks, but "with the pads only transmitting the max velocity of 127, it's pretty limited." However, you can assign each button, save the four dedicated mode delineators, to anything you wish for individual workflow including DJ specific attributes such as Tempo Nudge.

If you really want to go down the rabbit hole, you can tee up Max For Live for even deeper tweaking. The Launchpad's bidirectional communication allows for Max programmers to control the LED colors at varying brightness, set up enhanced functionality, such as sequencing and effects, and push the Launchpad to its limits. However, many can just utilize Novation's Automap technology to incorporate additional functionality, and even keyboard shortcuts, if you upgrade to Automap Pro.


Many users will contemplate whether they should buy the Launchpad or the Akai APC40/APC20. However, after spending considerable time with the Novation Launchpad, we believe the issue is deeper. The user should attempt to determine: what's the best product for their workflow. If they can't come to an immediate conclusion, they should know that both products can be used with another controller at the same time. Therefore, if a Live user buys a Launchpad and then has the realization that they want actual faders, they can just buy a Novation ZeRO SL MkII or a Vestax PCM-600 for that matter, and use them together. (see sidebar Multiple Controllers Provide Maximum Versatility below)

The Future: Solving our two small "Jeers" by creating an All Clip Stop control and providing the ability for all pads to transmit velocity would be a huge win for the MKII version.
Novation's Launchpad retails for $249 and is available now. More information on the Novation Launchpad.
Multiple Controllers Provide Maximum Versatility
Due to the fact that I don't feel one single Ableton controller has really nailed it for my personal workflow, I'm currently employing two different controllers for my Live setup, the Launchpad and the Vestax PCM-600. The Vestax is a well-built controller that adheres to the traditional mixer paradigm with dedicated rotary knobs for EQ, volume faders and a plethora of knobs and buttons that can be assigned to whatever suits your workflow.

The Vestax's ergonomics are well-suited for both mixing and playing live with plenty of "negative space" around the controls and quality components that can take a beating. The one thing that's missing is a dedicated "clip grid" and that's where the Launchpad fits right into the equation. The combination is lethal when performing — proving overall speed and quick execution of multiple tweaks simultaneously. I'm often quizzed by gearspotters on why I don't just use the Akai APC40. The truth is that I bought an APC40 when it first arrived on the scene, and while I thought it had many great features, I found the right hand side of the unit to be somewhat "usability challenged" with cramped controls and a poorly laid out design. Having been doing this for quite a while, I can get used to any layout, but the deciding factor was the APC's dodgy quality. After only a couple of weeks, one of the knobs came loose, a fader handle dismounted and a couple of the gray knob caps popped off. Not good.

After a quick eBay sale, I had the good fortune to liberate a 600 from a lad who needed a quick infusion of cash, and I haven't looked back.

—Garth Fields


Advertise on FutureMusic.com! | Privacy Policy | Employment Opportunities | Contact Us
Copyright © 2010 FUTUREMUSIC® All Rights Reserved.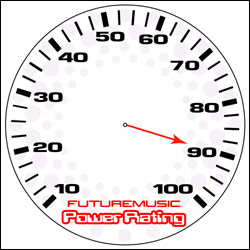 Novation scores big with a sophisticated and portable Ableton Live controller that is truly "backpack proof." For only a fistful of twenties, Novation has managed to knock Akai off the Ableton Controller Throne by giving the Live crowd a flexible tool for rocking the house.