Cheers:


+Value
+Build Quality
+Overall Concept
+Sound Quality
+User Interface
+Ease-of-use


Jeers:


-Copy Protection



Off The Record:


"As of today, this is easily the best overall value in vintage emulation."
--Dan Brotman


"The gorgeous aesthetic and attention to detail of the interface is first class all the way."
--Greg Geller


"You may not think of the Analog Factory experience as a synth for a the stage, but its a powerhouse for the money."
--Neville Carrol


"...the keyboard action and knobs felt like they belonged on a higher priced MIDI controller."
--Garth Fields


"Although, this is leaps and bounds better than their previous copy protection schemes, it's still annoying."
--Dave Park


"Analog Factory Experience's sound quality is outstanding with very musical patches that are inspiring."
--H. Lee







February 18, 2009
../ TestDrive: Arturia Analog Factory Experience
After putting Arturia's Analog Factory Experience through one of our longest product tests to date, we have concluded that there is a lot to love about their economical hardware/software virtual analog solution. Although it is rare to put the words economical and quality in the same sentence these days, Arturia's Analog Factory Experience can easily be described as such, and at a retail price of $349 this could be one of the biggest bargains currently on the market.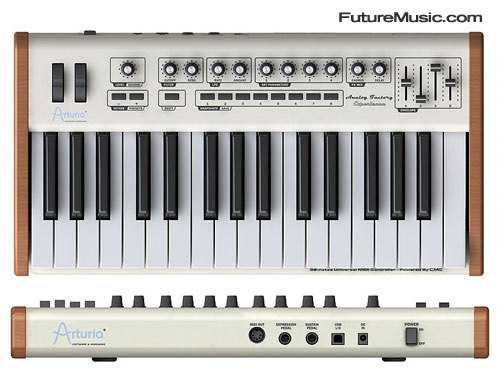 The Analog Factory Experience's attractive keyboard controller by CME

Initially, we thought Arturia's Analog Factory Experience (AFE) was just another attractively-packaged "gateway drug" to familiarize the uninitated with Arturi'a fine virtual analog emulators. This initial impression is backed up by clever assembly of "Greatest Hits" sounds and the limited ability to dig deeply into programming. However, what many of our testers discovered is that AFE is much more than just a pretty package, it's a live performance powerhouse.

Analog Factory Experience comes with a robust, 32-key, velocity-sensitive keyboard housed in a metal chassis with real maple accents on the sides. Made by CME and based on their U-Key technology, the keyboard also features USB 2.0 connectivity, a MIDI out, power switch and expression and sustain pedal outputs. Although, the retro knobs, sliders and keys are plastic, our reviewers felt they all had a "solid feel," were "not sloppy," and "felt like they belonged on a higher priced MIDI controller." However, two players noted that "the keys were narrower than usual."
Features:
Robust 32-key Universal MIDI keyboard built by CME and based on the U-key technology
32 semi-weighted keys with velocity response housed in an aluminium chassis with wood side panels
Plug and play: the Hardware and Software is instantly recognized and offers perfect integration Analog Factory 2.0
3500 synthesizer sounds
All preset are carefully selected from the Arturia Classic Synths: the minimoog V, Moog Modular V, CS-80V, ARP2600 V, Prophet V, Prophet VS and Jupiter-8V
Smart preset manager: fast filter the presets to your requirements, by instrument, type, characteristics
Basic sound editing
Full compatibility with major formats and hosts on Mac OS X and Windows XP or Vista (VST, AU, RTAS)
Compatibility: Windows XP and Vista; MAC OS X.2 or higher (notably Universal Binary)
The software component features 3500 sounds based on Arturia's arsenal of virtual instruments including the MiniMoog V, CS-80V, ARP 2600V, Moog Modular V, Prophet V and one of our favorites, the Jupiter-8V. The sounds are housed in a virtual representation of the CME keyboard with a "pop up" screen. As with Arturia's other products, AFE's interface is clean, distinctive and a "pleasure to behold" with their trademark folding animations when you switch from one of the three interface views to another. Arturia uses basic categories to label the sounds including instrument, (pad, lead, bass, etc) and 18 different sonic characteristics (bright, dark, aggressive, quiet, acid, ambient, etc.), but you'll most likely delve into the sounds initially based on source synth.
Editing of the presets is curtailed, but there's enough to tweak to put your own signature on the basic sound and then save your own creation. You can modify the ADSR amplitude envelope, filter, resonance, LFO rate/amount, effects and four sound specific characters per patch. Several of the 3500 presets were labeled as "meat 'n' potatoes" and "less than brilliant" by our users, but other patches were "inspiring," "sophisticated," "dynamic" and "very musical." Overall the AFE's sounds were described as "quality" with enough "texture" and "nuances" to "cut through" a mix or a live band "without a lot of EQ work."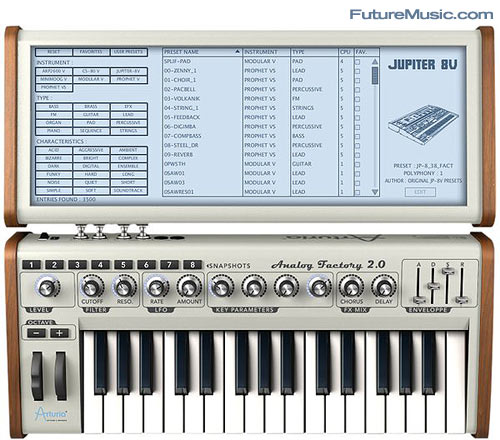 One of the three Analog Factory Experience screen views

The manner in which Arturia has melded the hardware and software of Analog Factory Experience, means that once you set up the keyboard and launch the software, you don't really need to use a computer mouse to navigate to a specific sound and start rocking. In fact, the keyboard features a dedicated Search button and +/- buttons for selecting your favorite sounds based on the instrument, sound types and sonic characteristic criteria mentioned above, and you can edit sounds and save your creations without reaching for the mouse as well.
The elimination of the mouse for naviagtion married to Analog Factory Experience's rock solid stability on Mac OS X, lead to several of our testers taking the package on the road. "I'm always dragging my MacBook Pro with me whereever I go, so why not turn it into an instrument when I've got show?"
The results surprised most of the testers. All users stated that set up "was a breeze" even with each selecting different sound card solutions. "With my M-Audio 410, it took me all of 5 minutes to set up and test the Analog Factory Experience each night." The keyboard size limited the type of keyboard playing, but for "bass lines, quick leads and other flourishes," Analog Factory Experience "exceeded my expectations in many ways."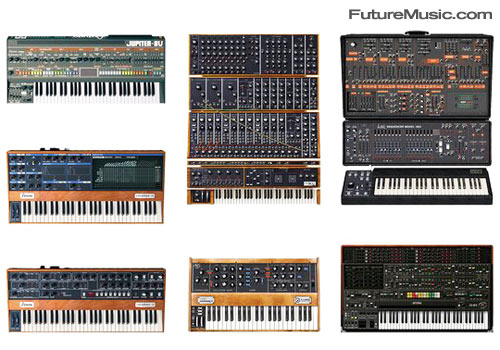 Arturia's Analog Factory Experience features sounds from 7 of their vintage synth emulators

Our last tester took the AFE on the road for a two month tour of Europe and found it to be his constant companion. "Whether I was using it for meaty bass lines, or as a tool for getting song ideas quickly down in my hotel room, the Analog Factory Experience never left my side." High praise indeed, especially considering this one particular reviewer has a knack for returning review products in less than perfect condition.

Overall, Arturia's Analog Factory Experience is a steal at the street price of $299. Due to the length of our TestDrive, we were able to see the product through several upgrades that addressed most of the shortcomings some of our testers initially encountered. With a wealth of usable, high-quality sounds, a heavy-duty, yet attractive, MIDI controller and now rock solid stability, the AFE can find itself as easily in the studio as on the stage. Highly Recommended.

The Future: We love to see an advanced version of the Analog Factory Experience that utilizes full versions of all their popular virtual synths with a 61 key master controller keyboard, which houses a full arsenal of knobs, sliders and other tweaking bits.
The Arturia Analog Factory Experience retails for $349 and is available now. More information on the Analog Factory Experience.

Advertise on FutureMusic.com! | Privacy Policy | Employment Opportunities | Contact Us
Copyright © 2009 FUTUREMUSIC® All Rights Reserved.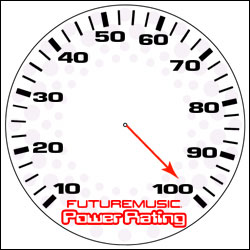 Arturia's Analog Factory Experience is a steal at the street price of $299. With a wealth of usable, high-quality sounds, a heavy-duty, yet attractive, MIDI controller and now rock solid stability, the AFE can find itself as easily in the studio as on the stage. Highly Recommended.