This fascinating 20-minute video by Nate Harrison documents the history of the "Amen Break," a six-second drum sample from the B-side of a chart-topping single from 1969. This sample was used extensively in early hip-hop, dance music and many other sample-based genres. Some say it even became the basis for Drum'n'Bass and Jungle. A six-second drum riff that spawned several entire subcultures — Amazing! Below is the "Amen Break's" waveform…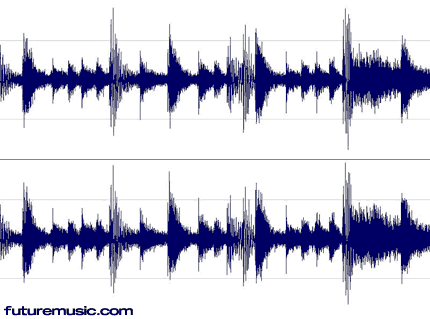 The Amen Break consists of 4 bars of Gregory Cylvester Coleman's drum-solo sampled from the song "Amen, Brother" as performed by the 1960s funk and soul outfit The Winstons. The song is an up-tempo instrumental rendition of an older gospel music classic. The Winstons' version was released as a B-side of the 45 rpm 7″ vinyl single Color Him Father in 1969 on Metromedia Records, and is currently available on several compilations and on a 12″ vinyl re-release together with other songs by The Winstons.
Watch the short documentary on the The Amen Break.