Kilohearts has released two fascinating new plug-in equalizers, Slice EQ and Carve EQ. We touched on Carve EQ earlier, but Kilohearts has released more details.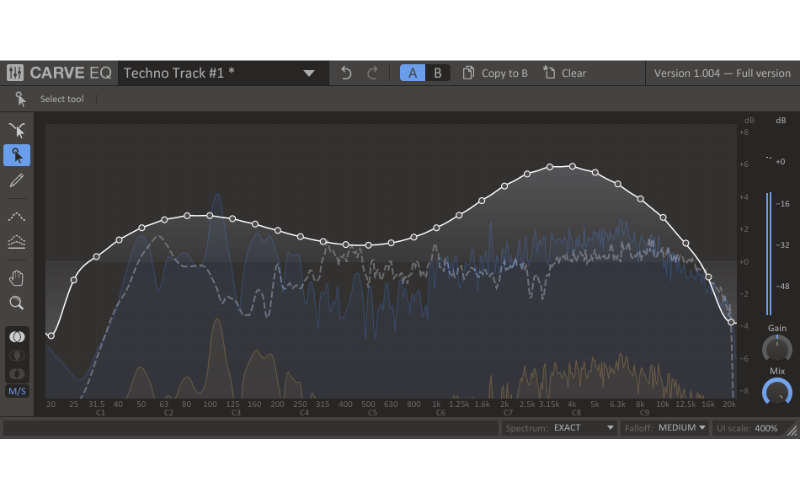 Kilohearts' Carve EQ is their mastering and sound design equalizer plug-in for Mac and PC. It gives you access to a "under-the-hood filtering system via an efficient and intuitive set of tools." Carve is also compatible with Kilohearts' innovative Snap Heap and Multipass effects rack plug-ins, making it part of the broader modular Snapins system as well as a self-contained processor. (More on the Snapins concept below. — Ed.)

Surgical enough for the full gamut of mixing duties, and with all the smoothness and transparency required for a place in the mastering chain, Carve EQ is the ultimate creative and corrective frequency shaping toolbox.
Kilohearts Carve EQ Features:
» 31 Band EQ
» Advanced Filtering
» Digitally Clean Processing
» Intuitive Workspace
» Resizeable Interface
Carve EQ contains a 31-band graphic equalizer with a cool Sculpt tool, "making the traditional row of faders look archaic in comparison." Use it to gently massage your group channel, or to take the entire mix where it needs to go. There is also a Match EQ feature that lets you apply the EQ profiles of other songs to your track — Import factory presets or use any audio as a reference, Carve EQ will match it.
Kilohearts Slice EQ
Following on the footsteps of Carve, Kilohearts has also debuted Slice EQ, which allow you to shape the frequency content of your channels, busses and mixes. Slice EQ is easy to use, flexible and transparent. As well as being a VST/AU/AAX plugin, it's compatible with Kilohearts' Snap Heap and Multipass effects rack plug-ins.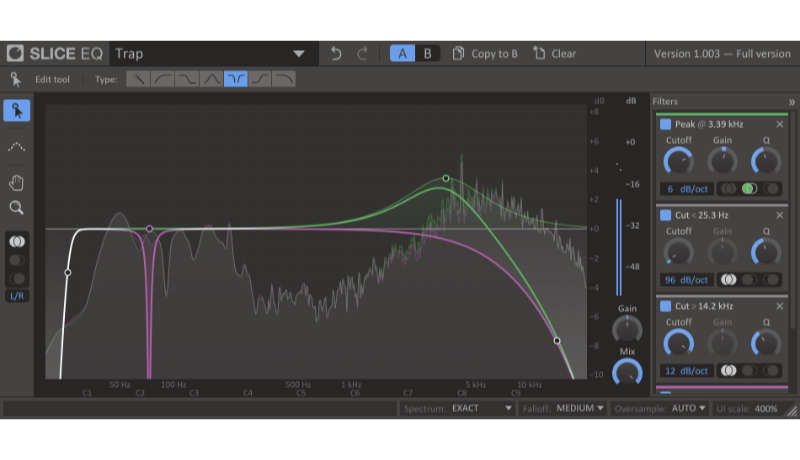 Slice EQ is an advanced parametric equalizer with the same intuitive layout as the rest of the Kilohearts product line. Building upon the successful parametric equalizers from the last couple of years, Slice EQ takes the next step forward with Kilohearts' signature minimalist UI and higher order filters of up to 96 dB/octave.
Kilohearts Slice EQ Features:
» Advanced Parametric Equalizer
» 96dB/oct Digital Filters
» Context Aware Filter Creation Tool
» Six different Filter Types
» A/B Comparison
» Stereo/Mid-Side Processing
Up to 32 filters are clicked into the response curve in Slice EQ's main display, each one automatically set to the appropriate filter type (high cut, low cut, peak, notch, high shelf or low shelf) for the point on the curve at which it's positioned – low cut below 30Hz, for example. The points can also be configured manually. Filter frequencies, resonances and roll-off slopes are edited by dragging their nodes or working the knobs in the pop-out Filters panel with roll-off slopes ranging from a gentle 6dB/octave to a razor sharp 96db/octave.



Slice EQ features both regular stereo and mid-side modes with linked or independent processing of left/right or mid/sides channels. The graphical editor depicts the mouse pointer position as a musical note name or as Hz and kHz. The A/B buttons enable one-click comparison of two separate curves. The onboard referencing system lets you overlay the variable-resolution spectral analyzer with a reference curve from a library of genre-based presets, live sidechain input or any imported audio file. The resizable GUI accommodates any display.
What The Heck Are Snapins?
Every Kilohearts device also installs as a Snapin, for use with the free Snap Heap plugin. This virtual effects rack lets you host multiple Kilohearts modules in up to four parallel chains, and modulate them with onboard LFOs, envelopes and macro knobs. For even more creative action, Kilohearts Multipass (Available for $99) enables multiband splitting of Snapin chains – push the low end through the Compressor and Phase Distortion Snapins while treating the high frequencies to Chorus and Delay, for example.
Kilohearts Carve EQ & Slice EQ are available now for $79. If you want both, check out Kilohearts kHs Equalizers Bundle for only $99.
Who Are Kilohearts Anyway?
Based in Linko?ping, Sweden, Kilohearts AB is a small development studio building software synthesizers and effects for Mac and PC. The company's mission is to combine quality and power with ease of use. Kilohearts' audio plug-ins are available for all major formats and have a strong focus of minimalism. Their plug-ins share a concept called "Snapin." That means you can use it as a regular VST/AU plugin, or you can use it with the Kilohearts Snapin hosts "Snap Heap" and "Multipass" where you can combine and re-order chains of effects in amazing ways.
To learn more about Kiloheats we cornered Anders Stenberg, co-owner and CTO of Kilohearts, and shook him down for the skinny…
FutureMusic: Tell us about the history of Kilohearts.
Stenberg: Kilohearts is a small company based in Linköping, Sweden (also home of Softube who are good friends of ours). We're three people, myself, Per Svanberg and Per Salbark. Back in 2011 we were working at the same company making online games. Per Svanberg and I wanted to try to do something of our own, and our initial plan was to continue making games. We'd worked a little bit with audio for a racing game and got asked by the game development studio Avalanche to make some audio processing tools. These tools were then used for the cars in their Mad Max game. That was really fun, and since music is a personal interest, the step to "hey, maybe we should try making some plugins instead [of working for game developers]" wasn't that big. A couple of years later, Per Salbark joined and that's our current lineup. Since then, we've released a lot of plugins and there are more to come. Basically we're just three friends doing what we love with the people we love.
FutureMusic: What do you feel your competitive advantage is in the crowded marketplace of music plug-ins?
Stenberg: Our background in both game and web development has given us experience in usability, User Interface design and just in general a different view on software design that someone who comes primarily from the audio field may not have. I think that gives our software a slightly different angle than a lot of other things out there.
FutureMusic: We really like the idea of Snapins – your micro plug-in concept. Tell us about the genesis of this idea and where you see it going in the future?
Stenberg: It actually started out with a multiband multi-FX plugin we prototyped, which had a number of fixed effect chains. A user (Subsquare) who tested it basically said "this is cool and all, but it would be great to be able to change the order of the effects." That sparked the idea for what eventually became Multipass and the Snapin system. As for the future, adding more Snapins is of course something we'd like to do, but also more hosts that make use of them. First up in that area will likely be a semi-modular synth we're working on.
FutureMusic: How do you come up with product ideas? And then how do you decide what product makes it to market?
Stenberg: A lot of product ideas come from our users, and by getting inspired by music and other products out there. Sometimes it's more of a personal challenge to figure out how to do something because we're weird enough to think mathematics and problem solving is fun. We probably should do more market research to pinpoint what products to make, but honestly we pretty much just pick ideas we like and do what we feel is fun.
FutureMusic: Who/what inspires you?
Stenberg: It's really fun to see how people use our stuff, because it's often in ways we hadn't really thought about ourselves. Maybe it's a boring and slightly self centric answer, but we're getting so much good feedback and that's really inspiring to continue doing what we do.
FutureMusic: What is the best advice you've ever received?
Stenberg: We've kind of picked up a motto from a friend: "How hard can it be?" When we encounter something we haven't done before or have some idea that feels overwhelming at first, we try to live by the "How hard can it be?" paradigm and just…do it.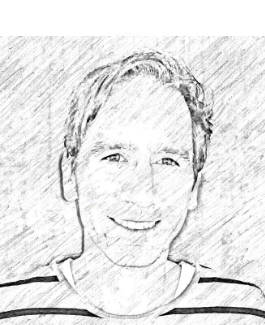 Kilohearts
Anders Stenberg is the co-owner and CTO of Kilohearts. "With a professional background in real time physics simulations and game development, music has always been an important part of my life ever since playing in (bad) high school rock bands and messing with Fast Tracker II at home in the 90's."