By Ivo Ivanov
Special To FutureMusic
Ivo Ivanov is a seasoned sound designer and electronic musician with over 20 years of experience in the industry. He is best known for his vast creative contributions to Glitchmachines, where he is the Founder, Creative Director, and Lead Sound Designer. In addition to running Glitchmachines for over a decade, Ivo has also worked with numerous audio companies such as Ableton, Native Instruments, Tiptop Audio, SoundMorph, Twisted Tools, K-Devices, Soundsnap, Plugin Boutique and Signal Space. Initially, we asked Ivo to give our readers five secrets every sound designer show know, and he gave us ten. Bonus!
Perform The Sound:
Gaining control over a sound's musicality is the key to creating more compelling designs. Whether you're recording Foley sounds or manipulating your favorite plug-ins, never hesitate to dig in with a performance-oriented mindset. Performing the sound is the elusive, yet crucial, aspect of the design process that allows you to bend sounds to your will. This approach will almost always yield more vivid and compelling results in your designs.
Always Take Notes:
Great ideas come when you least expect them. Don't assume you'll be able to remember the details of your ideas hours, or even days, after they occur. Instead, always carry a notepad or smart device with you so you can write down your thoughts as soon as they happen. This will ensure that you'll be able to preserve the ideas in their freshest state. Once you get back into the studio, you should make it a habit to transfer them to a spreadsheet, in order for you to elaborate upon further. Do this regularly and you'll have a wealth of fresh ideas always at your disposal.
Less Is More:
Sometimes the most insignificant source will yield the most rewarding results. Don't be fooled into thinking you need to spend heaps of money on equipment. Rather than stacking gear up to your studio's ceiling, focus on a handful of flexible and powerful plug-ins and/or hardware tools and get to know these absolutely inside and out. Not only will this create less mental and physical clutter, but it will also allow you to streamline your workflow in such a way that you'll ultimately be much more productive and capable as a sound designer. Knowledge is power and the more you learn, the more you'll be able to accomplish with even the most modest of tool kits.
Top-Down Workflow:
On the other side of the less is more analogy, lies the idea that you can never have enough options when it comes to finished assets. Thus, rather than designing 10 sounds when 10 are needed, design 50 and choose the 10 that are the best of the best. While more time consuming, by adopting this methodology you'll always wind up with a higher quality selection of material in the end.
Seek Inspiration:
Don't expect for inspiration to strike every time you sit down in your studio chair. In fact, this is probably the least likely place where you'll find your next rush of inspiration and new ideas. Rather, plan frequent trips to locations that inspire you. Bring friends and family along and generally focus on living in the experience and soak up everything the environment has to offer. Keep a notebook or other means of cataloging ideas if inspiration strikes, but most importantly just let yourself recharge outside of the studio environment. You'll find that once you return to your workspace, you'll be reinvigorated and full of fresh ideas.
Stay Organized:
Consistency is key, and the only way you'll stay on top of large quantities of assets is if you think things through from the outset. This includes prototyping ideas to see what works or doesn't work, but also has a lot to do with making deliberate decisions when it comes to naming conventions and file management. It's also crucial to know exactly what you did each step of the way in creating a specific sound or patch, so that you can either replicate or reverse-engineer a sound whenever necessary. This will give you a greater degree of control over your projects and much more flexibility when it comes to deconstructing your designs. This is especially true if you're taking creative direction from someone else or have to make significant revisions. Generally speaking, happy accidents are nice…but controlled and deliberate designs are even better.
Compartmentalize:
Don't try to squeeze multiple tiers of your workflow into one session. Instead, concentrate on one or two relevant tasks in order to fully focus your efforts in a more deliberate way. For example, if you're recording out in the field, just concentrate on this for the day, making sure to get the best possible takes and largest variety of material you can manage. Come back to this material on another day to focus on the editing stage, once you have had a chance to mentally and physically recharge and you can approach it with fresh ears and a neutral perspective. Do this for each step of your workflow and you will gain a much greater degree of control over your projects.
Quantity Vs. Variety:
Consistency is important, but it's a variety that we're truly after in many sound design situations. Of course, there's always a fine line between quantity and variety as it really varies per project. However, whatever type of project you may be working on, you should always consider the context and be prepared to draw the line when it comes to how many variations need to exist of a particular design. In situations like game sound design, high quantities of variations are often necessitated by the nature of the project. In music-oriented sound design, however, you'll generally benefit from a greater degree of variety so in these cases, it's important to avoid making 30 variations of the same sound. Know your format and consider the context in order to balance your variations and final assets accordingly.
Hold Your Breath:
Few things are more annoying than getting that perfect Foley take, only to later discover breathing or other bodily noises throughout the entire recording. Make a habit out of holding your breath whenever you're recording and you'll wind up with a lot more usable takes. During longer takes, control your breathing in such a way where you're fully aware of its trajectory and always stay as far away from the mics as you can. Coach your assistants to remain absolutely silent during takes and be aware of sonic artifacts such as handling and wind noise, distant traffic noise, planes and other unwanted noise. When working in the box, be sure to fine-tune your gain stages and keep consistent levels along with solid signal-to-noise ratios. Set robust levels at the outset rather than relying on dynamics processing or normalization later in your workflow.
Avoid Secret Weapons:
Nothing will draw you into your comfort zone faster than secret weapons. While such tools can pay off in the short term by quickly yielding exciting and interesting results, you're likely to quickly become dependent on them, which ultimately puts you at a great disadvantage once you find yourself in a situation where you don't have access to them. Moreover, they are never really as secret as you think they are. Rather, it's best to impose limitations into your workflow in order to continually challenge yourself. This includes switching up your tool kit and introducing fresh ideas, techniques and devices into your setup. Keeping things new and always changing them up will keep you inspired, challenged and locks you out of your comfort zone. This, in turn, will consistently yield fresh results in your creative output.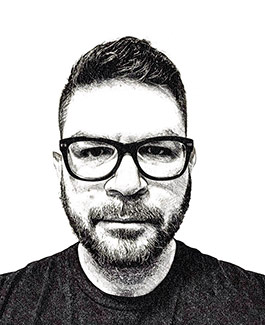 Glitch Machines
Ivo earned his Bachelor of Applied Science degree in Audio Engineering from the Expression College for Digital Arts in California. He subsequently spent five years working with the SAE Institute of Technology in San Francisco, where he wore many hats including Campus Director, Director of Education and Head of the Audio Technology and Electronic Music Production programs. Ivo also worked as the Advanced Synthesis & Sound Design Instructor with Pyramind in San Francisco and as a Consultant and guest Sound Design Instructor with Slam Academy in Minneapolis. Ivo's vivid and forward-thinking sound design has been featured in numerous games, software plugins and sound effects libraries. His sounds and creative tools are used by some of the most noteworthy game companies, post production facilities, recording studios and artists across the globe.