Audified has released the RZ062 Equalizer, a new plug-in bundle based on the Klangfilm RZ062a and RZ062b valve EQ modules made by German giant Siemens for installation in its film sound-centric Universal Mixing and Control Console (Klangfilm System).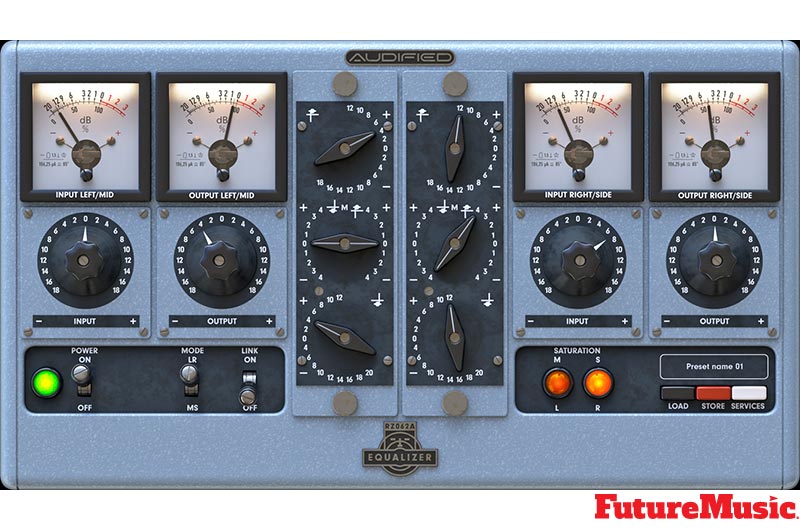 The Klangfilm RZ062a and RZ062b valve EQ modules were designed to allow arbitrary modification of frequency response in sound recording and reproduction in order to eliminate undesired studio acoustics, noise, or create certain acoustic impressions or tonal coloring. Creatively, each module differed in its implementation of the central knob. The RZ062a's mid control rotates the entire frequency curve around a central (650 Hz) point, treble frequencies are simultaneously lowered when the bass frequencies are raised, while the RZ062b module is even more complicated; its presence knob lets users choose one of four frequencies (1.4, 2, 2.8, and 4 kHz) and adjust their gain simultaneously. Soon both modules made themselves seen and heard in high-end European studios of the time.
Times change, however, as does technology. Today those 300V-powered, 6lbs (2.75kg) hardware heavyweights still carry with them a valve-driven sound that is as distinctive as it is desirable, thanks to their idiosyncratic implementation, and are extremely hard to source, so much so that a rare working pair recently changed hands for $12,000. Thanks to Audified's accurate circuit modeling technique, that distinctive, desirable, and different way of working, with present-day producers tending to surf through various frequencies, spending hours trying to find the sweet spot in their mix means mastering and music production projects can creatively benefit from the RZ062 Equalizer bundle.



Better still, the heart of each plug-in is modeled after the original device. Both let the user adjust treble and bass. The two EQ modules differ in the function of the mids control. The mid handle of RZ062A rotates the entire frequency curve around the central point. RZ062B is equipped with a presence knob that adjusts one of four preset frequencies. This helps the sound to cut through very gently and sensitively. RZ062 Equalizer is also equipped with INPUT and OUTPUT level knobs, and a Set Calibration function to give the user complete control over its pleasant-sounding SATURATION. RZ062 Equalizer sounds superb on vocals, bass, and drums. It also allows users to work in LINKED mode, control LR (left and right) channels independently, or switch to the MS (mid-side) mode that makes it a great tool for mastering.
Audified's RZ062 Equalizer is available now for $149 until September 10, 2017, rising to $199 thereafter. RZ062 Equalizer can be directly downloaded as a multi-format (AAX, AU, VST2, VST3), 32- and 64-bit native plug-in bundle for MacOS (10.9 and above) and Windows.

Audified