Moog has announced that it is replacing the Sub 37 Paraphonic Analog Synthesizer with the Subsequent 37. Aside from the tongue-in-cheek name change, the new 37 sees upgraded sonic modifications and functional improvements found in the limited-edition Subsequent 37 CV (minus the aluminum design aesthetic and CV outputs).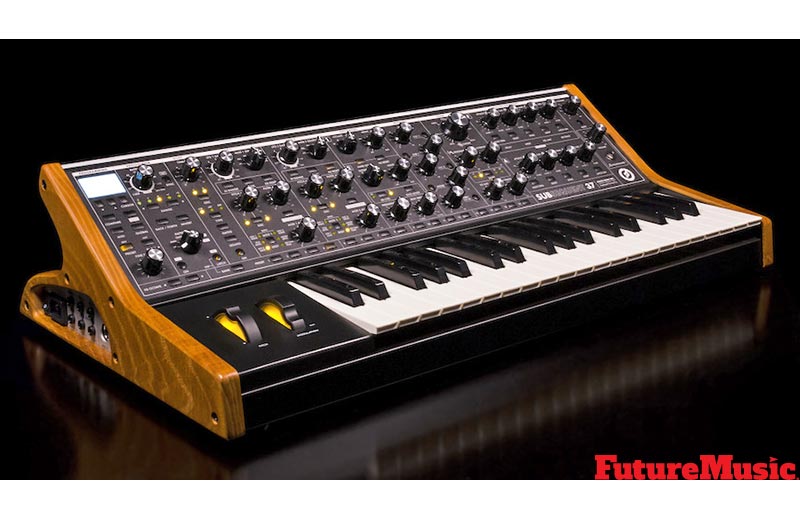 The Subsequent 37 is a 2-note analog synthesizer that claims to double the mixer headroom of the Sub 37. This provides access to a new range of classic clean tones in both mono and duo performance modes. The gain-staging of the Ladder filter has been reshaped to boost harmonic saturation and analog compression, resulting in an overall richer low end. The Subsequent 37 also features a re-tuned Multidrive circuit that extends well beyond the grit and growl of the original Sub 37.
Moog Subsequent 37 Features:
» SUB 37 DESIGN – All the controls and features found on the Sub 37 Tribute Edition
» SOUND ENGINE EVOLUTION – Richer low end and greater sonic dimension
» MORE MULTIDRIVE – Wider range and dirtier than ever before
» DOUBLE THE HEADROOM – More headroom means Duo mode sounds even better
» 37 NOTE KEYBED – Lightweight with swift action and aftertouch.
» HEADPHONE AMP – Cue up your next sound in the loudest of venues.
» EXTENSIVE MODULATION AND SEQUENCING – 2 assignable mod busses, 2 DAHDSR looping envelopes and an ultra-powerful arpeggiator/sequencer
» 256 PRESETS – 16 banks of 16 patches
» FREE SOFTWARE EDITOR – Works as a DAW plugin or as a standalone editor.



In addition to the sound engine augmentation, each Subsequent 37 comes with an upgraded keybed for improved playability, a headphone amplifier, and a software plugin/editor for both Windows and Mac platforms.
Moog's Subsequent 37 costs $1499 and should be available shortly.

Moog Music