Elektron has announced the second incarnations of their Analog Four mkII, Octatrack mkII and Analog Rytm mkII. The mkII versions claim to be improved in many areas and offer several new features and upgrades, but no relief from their high prices.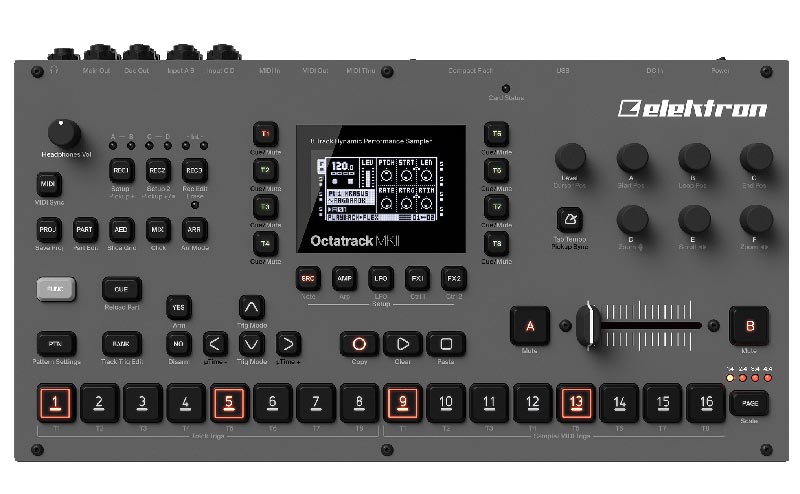 Analog Four mkII is a four voice analog tabletop synthesizer. The sequencer gives total access to all aspects of the active sounds and the four CV/Gate outputs mean external gear can be controlled as well. The analog circuitry of Analog Four mkII has been thoroughly reworked and provides deep, clear and defined bass plus a more prominent analog overdrive/distortion effect. Integrating the Analog Four mkII with external gear and computers is easy thanks to dedicated audio outputs for each voice, two expression/CV inputs, and high bandwidth Overbridge. The aluminum enclosure, the durable back-lit buttons, the big OLED screen, the hi-res encoders and the dedicated quick performance controls are other notable enhancements. They make the workflow quicker and more efficient. The total Analog Four mkII package is very complete, and offers an experience as close to sublime you can get.
Analog Rytm mkII is an 8 voice analog drum machine and sampler. By combining analog drum synthesis with a digital sample engine and a sequencer, it offers beat sound design possibilities. Sampling with the Analog Rytm mkII is perfect for adding a customized touch to any beat. General playability has improved thanks to the large pads, the amount of dedicated buttons and the performance controls. High bandwidth Overbridge and two expression/CV inputs for external control further strengthen the Analog Rytm mkII case. The aesthetic design of the spelling-challenged Rytm is due to the cast aluminum enclosure, the back-lit buttons, the hi-res encoders and the big OLED screen.
The Octatrack mkII claims to be a "better version of itself, built to mangle samples in demanding environments." Enhancements include high-quality buttons and hi-res encoders, an OLED screen, a contactless crossfader and an increased count of dedicated buttons.
The Analog Four mkII will be available in September for €1449 / $1349 — The Analog Rytm mkII will be available in October for €1699 / $1549 — The Octatrack mkII will be available in August for €1449 / $1349.

Elektron