KV331 Audio has released SynthMaster One, a wavetable soft synth featuring a simple layout, solid wavetable content, and factory presets from Arksun, Bu?lent Biyikoglu, Gerc?ek Dorman, Ufuk Kevser, Rob Lee, Vorpal Sound, Xenos Soundworks and Aiyn Zahev.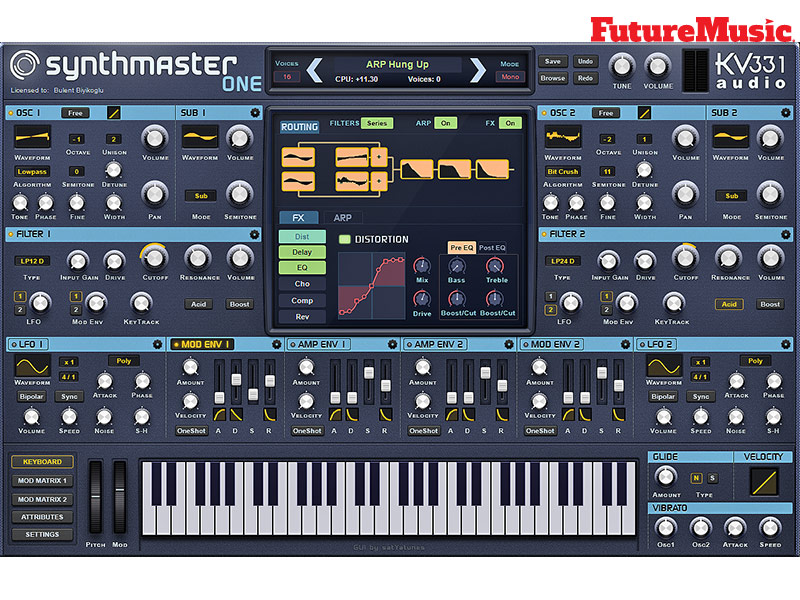 With wavetable synthesis, SynthMaster One claims to open up new possibilities for sound design. SynthMaster One comes complete with a rich wavetable library that can be extended by placing wavetables in its Waveforms folder. Furthermore, each of its two oscillators contain 17 different algorithms controlled by Tone and Phase parameters to shape the oscillator wavetable.
SynthMaster One's oscillators have stereo outputs and are capable of up to 16 unison voices and each oscillator can generate a rich supersaw sound. Still deeper, each sub-oscillator can be connected to its associated oscillator in five different modes, meaning users can choose to use them as regular sub-oscillators or have them do complex modulations, such as ring modulation, amplitude modulation, phase modulation, or frequency modulation. The sub-oscillators can also synthesize different types of noise.



SynthMaster One offers four different categories for each of its filters — namely, ladder, diode ladder, state variable, and bite, and all filter algorithms are created using zero-delay feedback filter technology. The filters can sound very warm, with advanced filter parameters like Input Gain, Drive, and Acid.
Aside from 12 preconfigured modulation matrix entries to make sound design even easier, new modulations can quickly be created by simply dragging a source or destination onto any knob on the user interface. Up to 24 modulation matrix entries can be created using 24 modulation sources and 234 destinations.
KV331 Audio's SynthMaster One is available in 64-bit AU and VST formats for online purchase directly from KV331 Audio for $79.

KV331 Audio