Antelope Audio's Orion Studio is a highly flexible, computer recording interface containing an incredible array of features and the lowest I/O latency we've ever tested. Many manufacturers tout "pro quality" in their marketing materials, but Antelope actually delivers. In our long term test with five reviewers, their comments in quotes below, we found so much to love about the Orion Studio, it's hard to know where to start.

First and foremost, every one of our reviewers highlighted the Orion's "indiscernible latency" in their evaluations. Again, many manufacturers chest pound about their ultra-low latency, but when the going gets tough, few deliver on that promise. One of our testers put Antelope's claims to the test, exhausting all possible I/O connectivity combinations he could muster and was "blown away at what [the Orion Studio] could handle" and "without breaking a sweat."
Antelope reduces latency with the one-two punch of employing Thunderbolt connectivity and their Field-Programmable Gate Array (FPGA) technology, which allows parallel processing via advanced algorithms, oversampling and other computing mojo. Sure, Thunderbolt's big pipe doesn't hurt, but our evaluators found that the FPGA really delivers when the Orion Studio is pushed to its I/O capacity limits.

With latency getting top marks across the board, the Orion Studio's other features were standouts as well. Included in the robust, 1U rack-mounted interface is twelve, Class-A HiZ, mic and line compatible preamps, all containing phantom power. Antelope leverages their long-toothed expertise in Clocking and AD/DA to deliver 24-bit, 192 kHz pristine audio. "Some who would say the mic pres and transparent AD/DA conversion are worth the price of admission alone, but add the rock-solid clocking, and you're getting ten-times the value," declared one evaluator.
Speaking of clocking, our Technology Editor tested the Orion Studio with several different dedicated Word Clocks and found none of the devices actually made the Orion sound better. Yes, some of the clocks "added their own flavor" with a heavier center-stage or a different bass texture, but none of the clocks, some costing well over $1000, actually improved the Orion Studio's sound. "The [Orion Studio's] sound-stage was wide and detailed with fat bass and true depth," emphasized one evaluator, "which is consistent with low-jitter, high-quality clocking."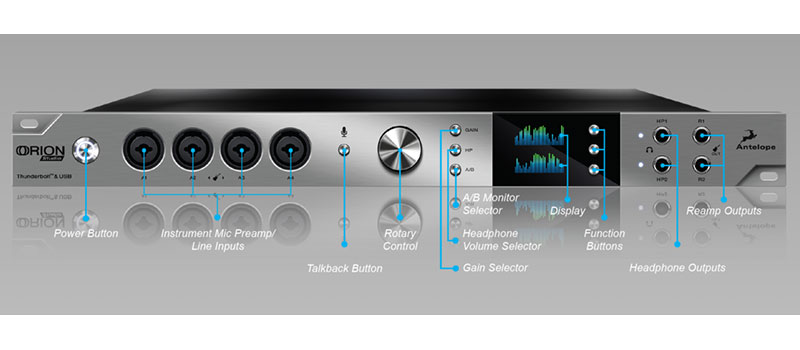 » Analog Inputs
— 4 x Mic / Line Instrument on XLR combos on the front
— 8 x Mic / Line on XLR combos on the rear
» Analog Inserts
— 2 x Inserts on TRS (inputs 1,2)
» Digital Inputs
— 2 x ADAT (up to 16 depending on the sample rate)
— 1 x S/PDIF
» Analog Outputs
— 16 x Lines on 2 x DB25 (16 channels Line Out)
— 2 x Stereo Monitor out on TRS (4 channels, only 1 active pair at a time)
— 2 x Stereo Headphone outs on TRS (4 channels)
— 2 x ReAmp outs on TRS (2 channels)
» Digital Outputs
— 2 x ADAT
— 1 x S/PDIF
— USB 2.0 – Data stream up to 480 Mbits/192kHz
— 24 channels I/O, Type B
» Word Clock Input: 1 x Input @ 75 Ohms 3Vpp on BNC 32 – 192kHz
» Word Clock Output: 1 x Output @ 75 Ohms 3Vpp on BNC 32 – 192kHz
» Thunderbolt: 32 channels
» D/A Monitor Converter: Dynamic Range: 129 dB; THD + N: -108 dB
» D/A Converter: Dynamic Range: 120 dB; THD + N: -107dB
» A/D Converter: Dynamic Range: 120 dB; THD + N: -110 dB
» 4th Generation Acoustically Focused Clocking, 64-bit DDS With Oven Controlled Crystal Oscillator
» Clocking Stability: <+/-0.02 ppm, oven controlled at 64.5ºC/ 148.1ºF
» Clock Aging: < 1 ppm per year
» Clock Calibration: <+/-0.001 ppm
» Sample Rates: 32, 44.1, 48, 88.2, 96, 176.4, 192 (kHz)
» Mic Pre: Gain: 0,10 – 65 dB; THD + N: -108 dB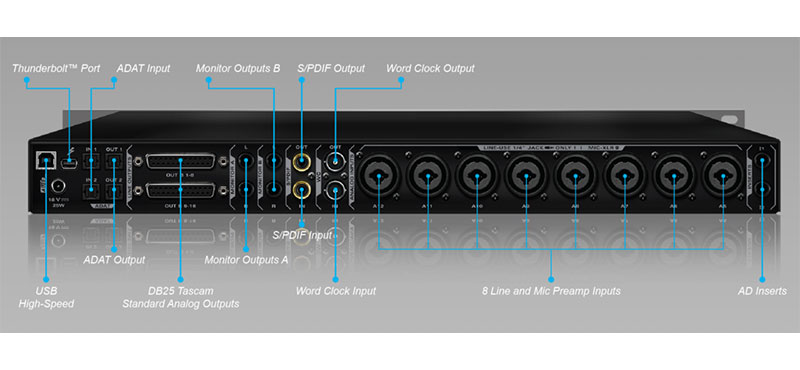 The Orion Studio features "a very attractive" aesthetic with a "minimal front interface." Four XLR/TRS dualie inputs take up the left side, followed by a Talkback button, jog wheel, Gain, Headphone Volume Selector and A/B monitor selector buttons. Moving to the right is a micro OLED screen, "which could be bigger and brighter," remarked several of the reviewers, and is flanked by three function buttons. Two independent headphone outputs and two HP, reamped outs round out the right side. The brushed-metal is "elegant and understated," and "oozes quality." On the rear we have another eight XLR/TRS dualies, plus two d-sub connectors, word clock I/O, S/PDIF I/O, and two ADAT I/O's. The aforementioned Thunderbolt port also located on the back and is definitely the way to go for connectivity, but the Orion Studio also supports USB 2.0.
With all this connectivity packed inside a 1U rackmount, the "postage-stamp-sized" OLED screen has "way too little real-estate" to effectively manage all the action. Enter Antelope's software component. Installation was a little wonky and the process needs to be revisited by Antelope to promote a more seamless experience, but after our initial trouble, we were able to get the software component up and running. Many computer interfaces nowadays need a software component to do the heavily lifting via a routing matrix and to manage the included effects, and Antelope's Orion Studio is no different. It's a double-edge sword, especially when the circumstances present themselves in which you want to manipulate all the unit's attributes solely on the hardware side, but when considering the value-proposition that the Antelope is presenting, it's understandable. With the size of the Orion Studio's hardware display being difficult to view (one evaluator half-jokingly suggested adding a magnifying screen to the glass – think the "bubble" on a Rolex watch), the majority of our evaluators eventually stopped referring to it at all, simply using the included software.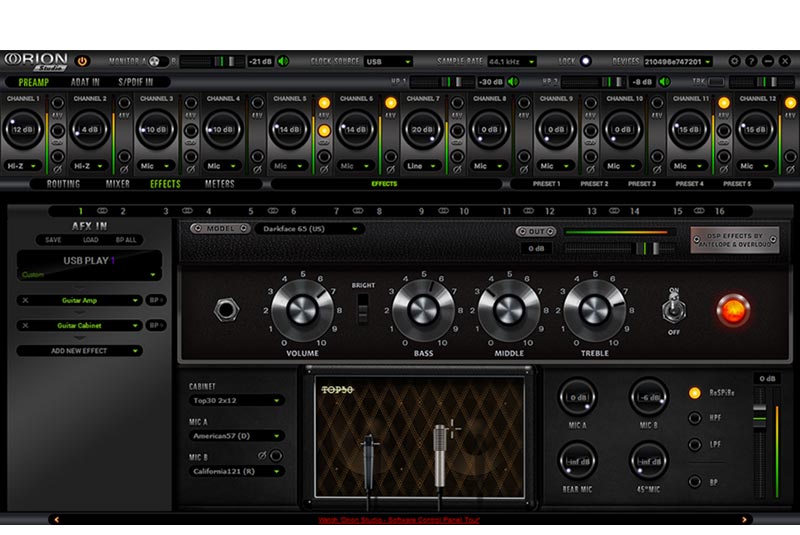 The Antelope's software component is "complex," "too dark" and "not as intuitive as it could be," but "it gets the job done." The main action takes place in the routing matrix and Antelope allows you to manage all physical I/O, as well as all the DSP channels and internal mix busses. "Once you get the hang of it, the routing matrix is extremely powerful, but sometimes I felt I had to take two steps backwards to go one step forward," expressed one evaluator. The all-black interface can also sometimes be "hard to read" with "unnecessary shadows and highlights." Although our reviewers found the software's aesthetics and usability to be a mixed bag, they all stressed that after "a short wrestling match," they were able to control the device "without issues."
Antelope, partnering with Overloud, provides a nice foundation of DSP effects, including reverb, guitar amp models, EQ and a compressor, and you can also incorporate your DAW's own plug-ins via the matrix. Our guitar reviewer, who mainly used the Orion Studio to track his arsenal of acoustic and electric guitars, found the guitar-focused models useful as "meat 'n' potatoes" effects for getting down a musical idea, but mostly used his own dedicated guitar plug-ins for "dialing in the guitar sound" he ultimately wanted. The compressor holds its own and "is useful to tame the unwieldy," as one reviewer claimed, but "has its own distinctive flavor" and is "far from transparent." All our evaluators liked the Pultec EQ, and found it to be the "most useful of all the DSP options."
Our Guitar reviewer fell in love with the Orion Studio and pronounced the unit as a "world-class" solution for recording guitars in a hotel room while on tour, or anywhere else you need a portable solution. With the guitar-based effects allowing for vintage cabinet and selections (think Boogie, Fender and Vox), and mic placement, as well as the "insanely great recording results," you will be hard-pressed to find a better product on the market.
For professional podcasters, Antelope may have dropped the ultimate recording interface. One of our reviewers used the Orion Studio to record eight different experts at a sports conference panel and came away very impressed. "The Orion Studio was a breeze to setup and gave me almost unlimited input and monitoring options. The fact that the recording came out stellar was just icing on the cake." Once he wrapped his arms around the Orion Studio's software, he "was able to set up, do a sound check and start recording in only about 25 minutes." For professionals who need to do "hit and run" remote recordings and want "truly professional quality," there is "nothing better in the market right now at this price point."
Despite some minor issues, the Antelope Orion Studio is a "near perfect" computer audio interface that will yield years of professional, quality recordings. With a robust build-quality, almost limitless connectivity and fine mic pres, not to mention stellar clocking and AD/DA conversion, you will be hard-pressed to find a competitor with this feature set at under $2500. Highly Recommended.
Rating: 94%
Cheers:
+ Stellar Overall Sound
+ Clean, Versatile Mic Pre's
+ Highly Flexible & Dexterous I/O
+ Construction Quality
+ AD/DA Conversion
+ Clocking Technology
+ Truly Ultra—Low-Latency
+ Bang-For-The-Buck
Jeers:
– OLED Screen
– Software Install
Antelope Audio's Orion Studio costs $2495 / €2495 and is available now.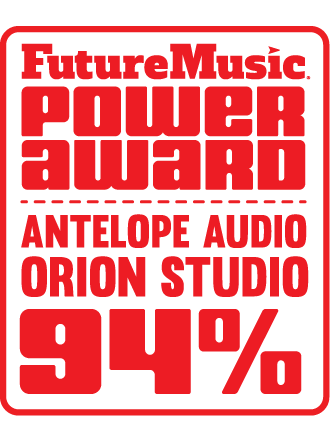 The Future:
When Antelope Audio updates the Orion Studio, we'd like to see them streamline the software installation procedure with a more efficient and intuitive authentication process. A brighter and easier-to-read graphical user interface (GUI) would also be welcomed. If Antelope includes a screen in the next incarnation, a larger and brighter OLED display would make a huge difference in its usability and workflow value.
Other Impressions:
Music Radar: 4.5 Stars (out of 5)
Sweetwater: 4.8 Stars (out of 5)
Bonedo: 4 Stars (out of 5)