Lauten Audio has expanded their Series Black microphone line with the addition of the LA-220 solid-state, large diaphragm condenser studio vocal microphone, and the LA-120, a solid-state, small-diaphragm FET instrument condenser. The LA-220 features a low-noise JFET amplifier, a 1-inch pressure gradient, large diaphragm, and a condenser capsule with cardioid polar pattern. The new mic features independent 120 Hz low-cut and 12 kHz high-cut filters, a transformer balanced output, and includes a spider-style shock mount. The LA-120 comes as a package with two mics, and features interchangeable 17mm pressure gradient condenser cardioid and omnidirectional capsules, low-noise JFET amplifiers, 50 and 150Hz low-cut filters, 10 and 15kHz high-cut filters, and a transformer balanced output. The dual mic package ships with a wooden box and hard mounts.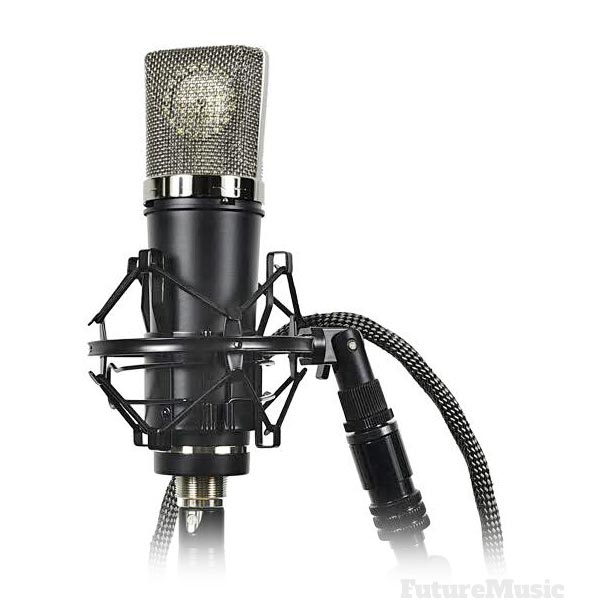 Both microphones are designed to give budding recordists an affordable entry into the world of professional sound recording. Both microphones feature two independent filters located on the microphone with easy to engage switches. If the room or source is boomy, or if there is low-end rumble from outside noise, recordists can turn on the low-cut filter and eliminate much of the problem. The high-cut filter can be used to roll-off high frequencies helping tame bright sources. Both new mic packages feature quality components often found in much more expensive microphones. "We have again utilized our years of experience to create what we believe to be the best value of any professional microphones on the market today. With the classic inspired designs, ultra-low-noise JFETs, built-in filters, and included accessories, these microphones are sure to quickly become a popular choice for any recordists on any budget." declares Brian Loudenslager, Founder of Lauten Audio.
Lauten Audio's LA-220 costs $499 and the LA-120 arrives at $599 when they become available sometime this month in the US and worldwide in October.
Lauten Audio