Electro-Harmonix debuted the Crash Pad this past fall, a reissue of their 1980 pedal. Unfortunately, Electro-Harmonix "faxed in" the new version, providing very little in terms of valuable modern updates. In fact, all five of our reviewers (their impressions in quotes below) determined the Crash Pad would not be something they would spend their hard-earned dollars on.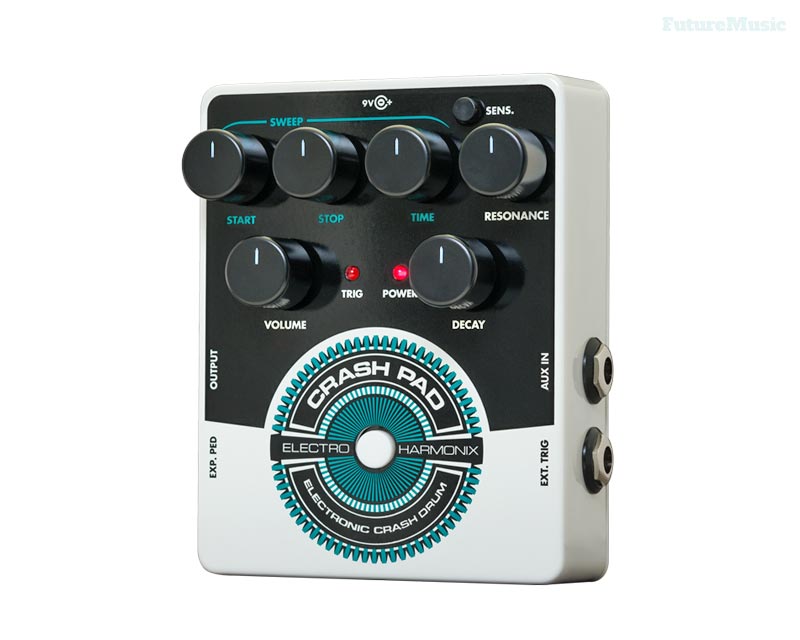 The Electro-Harmonix Crash Pad has "undefined" and "mundane" drum synth sounds that certainly don't stand out compared to many of the products from this era. In fact, the Crash Pad sounds worse. "Your much better off finding a used 80's drum synth on the secondary market, than buying the Crash Pad," cited one reviewer. Marry that to very limited sound shaping controls, and you have a product that comes up wanting. "Why EHX decided to just drop this turd on the market without addressing any of its shortcomings is just dumbfounding," another staffer commented.

The Electro-Harmonix Crash Pad has six controls, Start, Stop, Time, Resonance, Sensitivity, Volume and Decay, as well as your typical pedal on/off push button. Considering the size of some of their pedals, why they decided to reissue the Crash Pad in a small pedal chassis is another fail, since "today's sound manipulators don't want to be shoe-horned into this format." The Start Knob sets the initial point of the frequency sweep, a claimed 250 Hz to 7.5 kHz. The Stop Knob determines the hard stop of the aforementioned sweep from 50 Hz to 7.5 kHz. The Time Knob sets how long it takes for the full sweep from the Start/Stop settings. The range is from 40 ms to four seconds. The Resonance Knob tweaks the low pass filter and can self-oscillate. The Sensitivity high/low button sets the responsiveness to an incoming external source, one "upgrade" from the original version. "Reduced to a low or high setting is just too limiting when using an external trigger – a knob would have been a much better solution," stated another evaluator who was using a Korg WaveDrum. The Volume Knob controls the output heat. The Decay Knob controls the internal volume envelope from immediate to up to about five seconds in our tests.
Another new attribute is basic CV control of the filter via the Expression Pedal. As with the rest of the unit, its abilities are pretty limited. "The CV control is another miss. MIDI would have been a much more useful option." Other connectivity includes Expression Pedal Input, External Trigger Input, Aux Input and Output (mono), all 1/4″. The unit can either be powered by a 9 Volt battery or external power source, sold separately.
Electro-Harmonix claims the Crash Pad is capable of "a range of percussive sounds from cymbals, snares and high-hats to other-worldly oscillation sweeps." Unfortunately, the marketing hype doesn't translate to the real world. Worse, all reviewers cited a significant noise floor, "I didn't see a Noise Knob on the unit, but you can sure hear it." When dialing in your own sounds the results often end up being "quite thin" and "get completely overrun in your productions unless massive processing is added."

Conclusion
The Crash Pad reissue by Electro-Harmonix failed to impress any of our evaluators. The company clearly didn't put much deep thinking or effort into this reissue, and it's a shame.
Not Recommended.

FutureMusic Rating: 60%
Cheers:
+ Build Quality
Jeers:
– Quality Of Results
– Noisy
– Bang For The Buck
– Controls
– Range Of Sounds
Electro-Harmonix's Crash Pad costs $117.50 and is available now.
Electro-Harmonix