There have been several "MIDI Swiss Army Knives" on the market as of late, which all serve to alleviate a certain studio pain point. Whether it be routing options, multiple sync technologies, timing adjustments or generating a low-jitter signal, there is a product out there for you. Last fall, we received the E-RM Multiclock in for review and put it through an extensive test using five different reviewers (their comments in quotes below). You would think that the Multiclock is a pretty straightforward product, but as you will read, it does have a couple of tricks up its sleeve.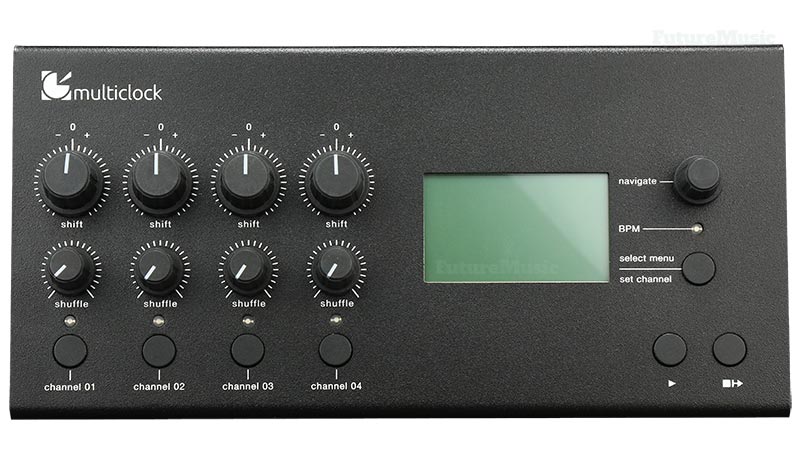 E-RM claims "the multiclock solves your sync issues in the studio and on stage once and for all." While it didn't turn out to be an end-all, be-all to us, it did provide quite a few attributes, which made it a product to consider if you have an arsenal of vintage gear and want to accurately sync it to your Digital Audio Workstation without fanfare.


E-RM Multiclock Features:
» Multiple Sync Technologies
» Four-Channel Control
» +/- 300ms Timing Shift
» Swing Adjustment
» DIN Sync, Analog Pulse or MIDI on each channel
» Metal chassis
» LED Monochrome Screen
» Optional USB Connectivity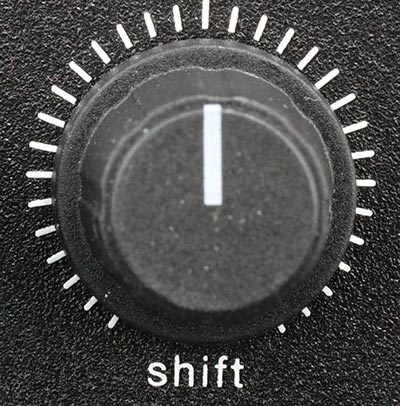 The Multiclock builds on E-RM's first product, the Midiclock, in several ways, but the core competency of providing solid MIDI Clock, DIN Sync (Sync24) and analog clock pulses is where everything begins. E-RM states that it "guarantees absolutely tight clock signals with ±1 sample of jitter" and our reviewers found the Multiclock did maintain a "stable and reliable sync, even when burdened with multiple devices running different sync tech." E-RM achieves this by delivering its timing via Audio Sync Track, instead of a MIDI Clock signal, thus when installed in your kit, the Multiclock becomes the de facto clocking source, not your DAW.

One Clock Source To Rule Them All
This is very important to understand and if you're familiar with Word Clock, the concept is similar. For example, sophisticated studios all employ a single, dedicated Word Clock generator to accurately lock digital gear, which depends on sample accurate data. When setup correctly, the results can be striking, just see our Black Lion Audio Microclock III review to learn more. E-RM aims to do this for your MIDI, DIN and analog pulse sync gear, by providing their singular clock tech to accurately marry all your gear, no matter what the vintage. Now they could have left well enough alone with this simple feat, but they decided to add a couple of creative features, which turns the Multiclock into a "surprising amount of fun," according to one of our reviewers.


But before we get to the creative facets, let's take a deeper look at the Multiclock. First off, the build quality was cited by each of our reviewers as "excellent" and "substantial." With a metal chassis, "beefy rubberized knobs," clear silk-screening and a high-contract LED monochrome screen, the Multiclock is all business. The fit and finish was also praised by our reviewers, which should be a nice pat on the back to E-RM, a small German manufacturer.
MIDI Clock, DIN Sync Or Analog Clock
The Multiclock outputs four channels of MIDI, DIN or analog clock for synchronization. Each channel can be configured to deliver MIDI Clock, DIN sync or analog clock. The Analog clock signals are configurable in polarity, start/reset behavior and contain a flexible clock divider. An analog LFO is available with various waveforms and a range of 0-5V for even more flexibility. As a nice bonus, the Multiclock allows you to save your channel settings as a preset for later recall with its own distinctive name. For about $50 more, you can have an optional, class-compliant USB MIDI connection installed that enables you to send MIDI commands from a Digital Audio Workstation to connected gear downstream when syncing to audio clock. In addition, the USB provides one virtual MIDI output for each channel and all commands are priority-merged with the Microclock's sync. Our review unit came with USB installed and we found it to be a worthy upgrade, especially when you factor in the initial cost of the unit.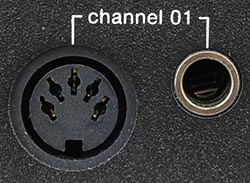 The rear of the Multiclock provides the connectivity options and input from the power supply. The Multiclock only comes with a dual prong European plug, so North American users will have to purchase an adapter or buy an appropriate wall wart. There are four 5-pin (MIDI/DIN) output connections with a 1/4″ jack for Audio Sync on Channel One. There is a single 5-pin (MIDI/DIN) connector plus a 1/4″ jack for the inputs.
Although the E-RM prides the Multiclock on its stable clock generator with a 48 kHz sampling frequency, a couple of reviewers questioned whether or not this was simply overkill, knowing that PPQ (Pulses Per Quarter Note), would have a "greater affect on timing and feel than jitter." While E-RM positions the Multiclock has being "50,000 times more accurate than the average DAW," this may be less and less important as certain DAW's are now supporting 14 bit resolution, and new MIDI specifications are being introduced to throughput more information at higher resolutions. That said, E-RM did add a couple of features, which may keep it relevant into the future.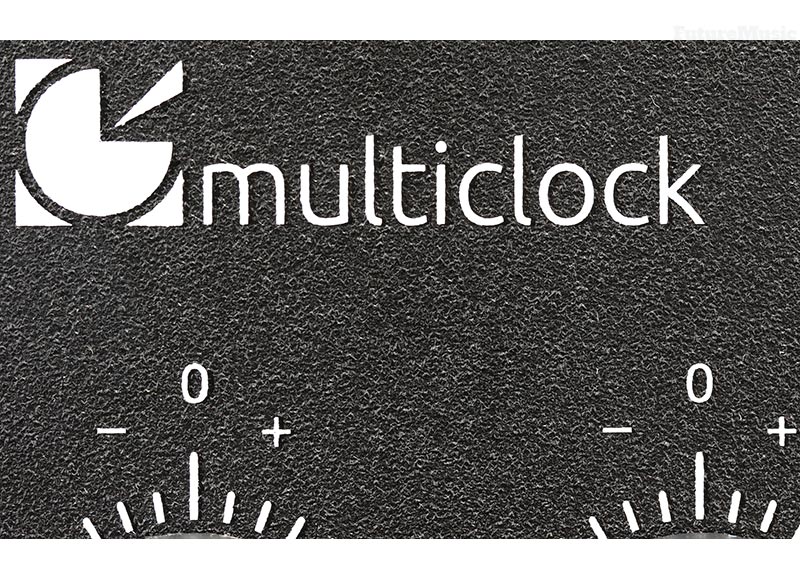 Swing & Shift The Night Away
The Multiclock features the ability to Swing and Shift the MIDI timing via designated rotary knobs on each of the four channels. E-RM presents Shift as a methodology for addressing hardware and software latency, but our reviewers found that it could be used to "chunk up the rhythm sections, like funky house DJs used to do on turntables." What this particular reviewer is referring to was a technique used by DJs – before digital DJing and the addition of the SYNC button – when beat matching records. By slightly dragging one record just behind the other, DJs could create fat, chucky drum beats. The Multiclock can add/subtract about 300 milliseconds of shift against the master clock for each channel in realtime. Increasing the millisecond delay/push is something that each reviewer cited as an enhancement for future versions for creative possibilities and not just latency compensation.
Less effective was the Swing functionality, which our reviewers found to be "too rigid," "uptight" and "very German." Another reviewer noted, "while not the same as the swing from the early MPC's, I was able to work it with the Shift function to yield some interesting results, but [the Multiclock] would benefit from revamping the timing in a firmware update, since it was too precise to get heads nodding by itself."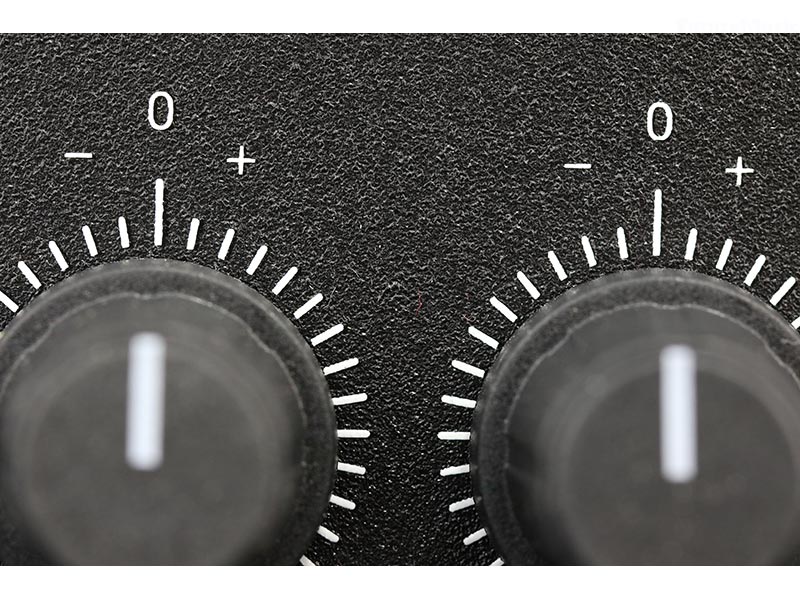 Conclusion
In our long-term evaluation, the E-RM Multiclock works as advertised for superior MIDI clocking fidelity and precise timing. The addition of the Shift and Swing attributes significantly increases the value proposition, especially for creators of EDM. However, at $600 the Multiclock will only appeal to the upper echelon of producers who feel the steep price may somehow pay off in terms of tighter MIDI implementation across different clocking technologies. Others will feel that more flexible products on the market, such as Arturia's stellar Beatstep Pro, which includes DIN and trigger sync capabilities, as well as far better swing feel, plus an incredibly enjoyable sequencer/controller, provide far more value, at half the price.
The Future
Timing accuracy is certainly at the forefront of E-RM's objective with the Multiclock, but the Shift and Swing functionality may be the real power of the unit for electronic musicians, and should be enhanced.
FutureMusic Rating: 76%
Cheers:
+ Build Quality
+ MIDI Clocking Accuracy
+ DIN 24 & Analog Pulse
+ Timing Shift
Jeers:
– Expensive
– Swing Feel
– USB Connectivity Extra
– LED Monochrome Screen Can Be Hard To Read
– CEE 7/16 "Europlug" (Type C) only Power Adapter
E-RM's Multiclock costs $600 and is available now.
E-RM