Native Instruments has released Flesh – a new Reaktor Instrument developed by Tim Exile. Flesh uses a set of advanced algorithms to turn rhythmic source material into all the elements of a complete production, including basslines, melodies, chords, harmonies, and more. The instrument is aimed at creative producers looking to enhance their live sets or find inspiration for their original productions through a fun, improvisational approach.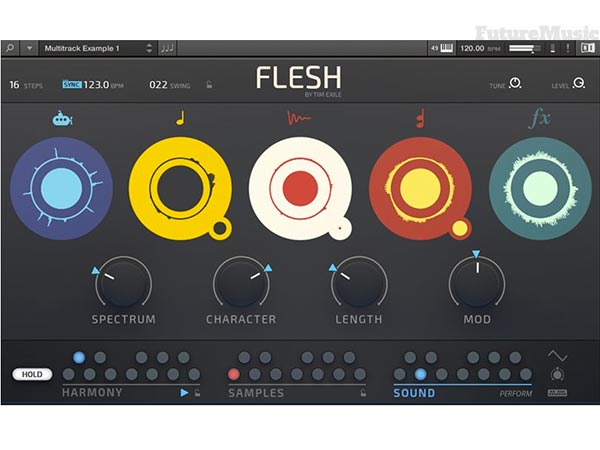 "The concept for Flesh came to me when touring with my custom looping, beatmaking, and improvising instrument that I built in Reaktor," says Tim Exile, an electronic musician, producer, and inventor. "I was missing a way to make harmonic and melodic material in a live, improvised scenario. I wanted something that would empower me to create expressive and dynamic sounds which fit in perfectly with whatever was going on at the time."
Flesh was designed to be a fun and easy-to-use performance instrument. Its advanced algorithms analyze the transients and spectral profile of sampled source material in the background. This information is then sent to four audio engines as curves and triggers for re-synthesizing the source material. The result is dynamic riffs, grooves, and chords that retain the feel of the original sample. This advanced processing is made possible by the Reaktor 6 engine.
Flesh comprises four audio engines, plus effects and modulation sections. Each engine has a specific function, from changing the sonic character of the sample itself to transforming it into a monophonic sequence or lead, chords, or sub-bass frequencies. Additionally, the sound generated can be further modified by the effects section and modulation page. The effects section re-creates a highly-modified dub delay while the modulation page allows producers to add subtle to radical motion to their sound.
Flesh features a streamlined control set allowing for radical changes to the rhythmic and tonal output of the instrument. Producers can play rich harmonic progressions, trigger and switch source samples and sound snapshots, then tweak parameters across all engines at once in real time. A clever system of global macro controls allows for consistent and tactile live tweaking on just four main controls – Spectrum, Character, Length, Mod.




Flesh is the first Reaktor Instrument designed from the ground up to get the most out of the Komplete Kontrol S-Series keyboards. Flesh uses the Light Guide to provide tight visual feedback, highlighting sounds and samples, and sequenced harmonies. Native Map automaps parameters to the eight control knobs on the Komplete Kontrol keyboards. Users can also save presets – including samples – and recall them in real time.
NI's Flesh is available now for $99 / €99 / ¥11,800 / £89 / $AU149 and runs in Reaktor 6 or the free Reaktor 6 Player.



Native Instruments