Native Instruments has released their own Stem Creator software for Mac and PC. For those who are unfamiliar with this new format, Native debuted this technology based on the core philosophy of remixing. When artists are tasked with a remix, the original composer often provides "stems," which are separate tracks of the song broken down into individual elements. So a remixer will receive a "drum stem" – just the drum part, a "percussion stem" – just the percussion elements, a "vocal stem" – just the vocals (usually processed), and so on. The amount of stems a remixer receives is based on the record label and original artist, as of now there is really no standard. In addition to the stems, the remixer may receive MIDI files, individual sample hits, and other elements of the song. Native decided to "standardize" this concept and break down songs into four distinctive elements for use with their excellent Traktor software and controllers. Stems is an open format and there is a Developer's Toolkit available.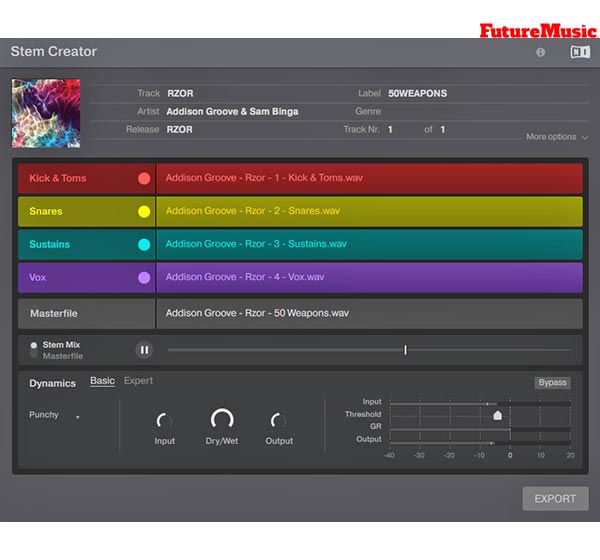 Stem files use the .mp4 container format to store the four individual stems of a track within a single file. Using the file extension .stem.mp4, this single file can be managed just like an mp3 file. A standard master version of the track is also included in the file and can even be played in stereo with any compatible audio player following standard mp4 specs, like iTunes for example. To play with a track's individual stems, Stem-compatible software or hardware is required. For more information on stem creation watch the explainer video below.




Creating Stem files isn't' difficult, but certain care needs to be taken to ensure a comprehensive quality standard. To kick the format into high-gear, Native is releasing the free Stem Creator, a simple, standalone application built specifically for Stem file authoring. Just prepare four musical elements of a track as separate audio files, import them into the Stem Creator, adjust the compression, and hit export. A new, high-quality stem.mp4 file is then created, ready for creative mixing. Here's a tutorial to see just how it works:




The Future: A terrific (and logical) next step to entice development of Stems for fun and profit by Native Instruments. With the Stem Creator software, look for DJs and musicians to experiment into new sonic realms and explore what is possible, instead of just creating individual track elements. And look for Developers to push the envelope and go far beyond what NI may have intended for the format. This should be fun!
Native Instruments Stem Creator for Mac and PC is free and available now.



Stem Music