Native Instruments has upgraded Reaktor to version 6.0, their "modular DSP environment," which many thought was going the way of the dodo bird. Since its release as Generator in 1996, their dynamic and innovative sound design ecosystem has been stimulating more advanced computer synthesis users for almost 20 years. Understanding that Reaktor was beyond many users, Native Instruments addressed this aspect of Reaktor and claims to have delivered "the most approachable version of the software for anyone interested in deep sound experimentation."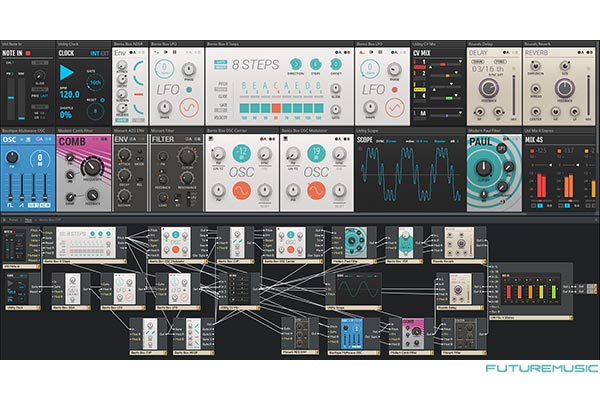 In addition to usability, Reaktor 6 also introduces Blocks, a set of modules allowing users to create custom synths in the same way a modular synthesizer is patched. Blocks is a new framework, providing the flexibility of modular synth patching combined with the benefits of working in the digital domain. Version 6 comes bundled with 30 Blocks in several categories, each with a specific purpose. Bento Box Blocks represent the core components of a modular synth setup. Boutique Blocks take inspiration from custom hardware that bring advanced sound shaping to the world of modular synthesis. Digilog Blocks create complex rhythms, process notes, and provide structure in patches. NI All-Star Blocks are single rack-style components of Native Instruments synths such as Rounds and Monark. To facilitate the development of Blocks, Native provides free access to the Reaktor User Library, allowing their vibrant community to post creations for others to download. In addition, FutureMusic can see NI also selling their own specialized Blocks to add another Reaktor revenue stream.
Reaktor 6 also contains new enhancements for the advanced builders creating their own synthesizers, effects, and audio devices. Three key additions extend Reaktor's workflow efficiency and sampling power at the Core level. Bundled wires are like multicore cables, making intra-level patching cleaner and more elegant. Scoped buses allow wireless connectivity across multiple structure levels. The Table Framework feature allows flexibledata sharing throughout Reaktor, including from Primary to Core levels.




Native Instruments' Reaktor 6 is available now through the NI Online Shop for $199 / €199 / ¥24,800 / £169. Owners of previous versions of Reaktor and students enrolled in educational institutions can upgrade to version 6 for $99 / €99 / ¥12,800 / £89.



Native Instruments