XILS-lab has released Syn'X 2, an upgrade to their polytimbral virtual analog synthesizer plug-in for Mac and PC. Syn'X 2 is an emulation of the Elka Synthex, an Italian eight-voice polyphonic synth launched in 1982.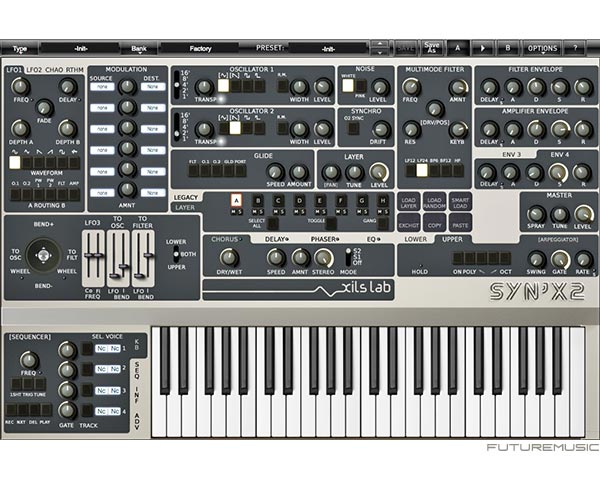 Thanks to the eight monophonic synthesizer circuits central to its 16-Digitally Controlled Oscillator driven design by Mario Maggi, this synth possessed a unique sound, but was plagued by reliability issues and eventually discontinued in 1985. XILS-lab decided to ask themselves a series of questions when it came time to bump the Syn'X to version 2.0. Wouldn't it be wonderful if you could create a synthesizer with the sophisticated multilayer architecture of Oberheim's mighty Matrix 12 analogue polysynth, say, with an abundance of modulation matrixes per layer — effectively enabling flexible routing to rival the modular systems that preceded it in decades gone by, but then musically married that to the expansive Elka Synthex sound? Well, let's start with that for the Syn'X 2…
Syn'X 2 offers a combination of DCOs with analog-modelled multimode filters to faithfully reproduce the sound that so clearly defined the Eighties era, but, because it's polytimbral, users can access up to eight individual synthesizers simultaneously with 16 oscillators, eight 0DF (Zero-Delay Feedback) analog-modelled filters, 32 D-ADSR (Delay, Attack, Decay, Sustain, Release) envelopes, and modulation matrixes addressing any of 132 possible destinations when creating their own patches.
Other enhancements to the Syn'X 2 include: oscillators with (up to 40) cumulative waveforms (per patch); new 0DF PWM (Pulse Width Modulation)/hard sync oscillator algorithms; CHAO (2D space movement) and (five rhythmic effects) RTHM LFOs (Low Frequency Oscillators) with (up to 50) cumulative waveforms (per patch); two arpeggiators; two keyboard zones — Upper and Lower, suitable for split and layered instruments; guitar multitimbral mode — whereby all layers can be assigned to independent MIDI channels, so playing different sounds with each guitar string, for instance, is possible; polyphonic SEQUENCER (that also acts as a modulation source); vintage-sounding CHORUS, DELAY, PHASER, and EQ effects (with proprietary True Stereo Technology); and 300 presets.
Fortunately for some, a helpful Easy mode provides programmers with an intuitive and streamlined environment, similar to XILS-lab's recently released miniSyn'X polyphonic, duo-timbral virtual analog synthesizer plug-in, but with additional envelopes and LFOs, etc, easily accessible. Alternatively, the Advanced mode makes all aspects of Syn'X 2 available, allowing users to create their own patches with a reworked workflow.
XILS-lab's 32- and 64-bit Syn'X 2 is available now for an introductory discounted price of €127 until July 21, 2015 (rising to €169 thereafter) via the XILS-lab web store in the following flavors for Mac and PC, AAX, AU, RTAS and VST.
https://www.xils-lab.com/products/Syn'X-%3A-iLok-or-eLicenser-protected.html