With one carefully worded letter to the "historically progressive and generous" Apple corporation, Taylor Swift has become the most powerful person in the music industry, and a force to be reckoned with in the tech world. Ms. Swift took issue with the fact that Apple, who offers a free 3-month trial for their new music streaming service, Apple Music (formally Beats), refused to pay "writers, producers, or artists" during the trial. The fact that she called Apple out in public on her Tumblr page, and in turn Apple changed their policy, showcases not only her muscle, but also her potency in the new music economy.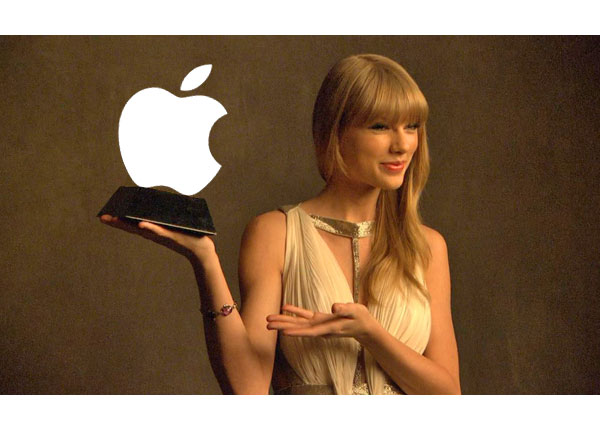 Not only did she stand up against Apple, but she also stood up for fledging songwriters, producers and musicians, cementing her legacy. You may not like her music, but you now have to love the woman. Here's her public letter to Apple:
To Apple, Love Taylor
I write this to explain why I'll be holding back my album, 1989, from the new streaming service, Apple Music. I feel this deserves an explanation because Apple has been and will continue to be one of my best partners in selling music and creating ways for me to connect with my fans. I respect the company and the truly ingenious minds that have created a legacy based on innovation and pushing the right boundaries.

I'm sure you are aware that Apple Music will be offering a free 3 month trial to anyone who signs up for the service. I'm not sure you know that Apple Music will not be paying writers, producers, or artists for those three months. I find it to be shocking, disappointing, and completely unlike this historically progressive and generous company.

This is not about me. Thankfully I am on my fifth album and can support myself, my band, crew, and entire management team by playing live shows. This is about the new artist or band that has just released their first single and will not be paid for its success. This is about the young songwriter who just got his or her first cut and thought that the royalties from that would get them out of debt. This is about the producer who works tirelessly to innovate and create, just like the innovators and creators at Apple are pioneering in their field…but will not get paid for a quarter of a year's worth of plays on his or her songs.
These are not the complaints of a spoiled, petulant child. These are the echoed sentiments of every artist, writer and producer in my social circles who are afraid to speak up publicly because we admire and respect Apple so much. We simply do not respect this particular call.
I realize that Apple is working towards a goal of paid streaming. I think that is beautiful progress. We know how astronomically successful Apple has been and we know that this incredible company has the money to pay artists, writers and producers for the 3 month trial period… even if it is free for the fans trying it out.
Three months is a long time to go unpaid, and it is unfair to ask anyone to work for nothing. I say this with love, reverence, and admiration for everything else Apple has done. I hope that soon I can join them in the progression towards a streaming model that seems fair to those who create this music. I think this could be the platform that gets it right.
But I say to Apple with all due respect, it's not too late to change this policy and change the minds of those in the music industry who will be deeply and gravely affected by this. We don't ask you for free iPhones. Please don't ask us to provide you with our music for no compensation. —Taylor
Although her line – "We don't ask you for free iPhones. Please don't ask us to provide you with our music for no compensation." – is somewhat out-of-bounds, it's a brilliant sound-bite, which encapsulates her argument, and ultimately forced Apple's hand. The next day, Apple suddenly reversed course. "Apple will always make sure that artist are paid," tweeted Eddy Cue, Apple's SVP of Internet software and services. #AppleMusic will pay artist for streaming, even during customer's free trial period. We hear you Taylor Swift and indie artists. Love, Apple."
With one measured letter, Swift now finds herself at the epicenter of the changing face of the music and tech industries. The question is, where does this newly crowned activist and pundit go from here? Because we are talking Taylor Swift and there will be haters…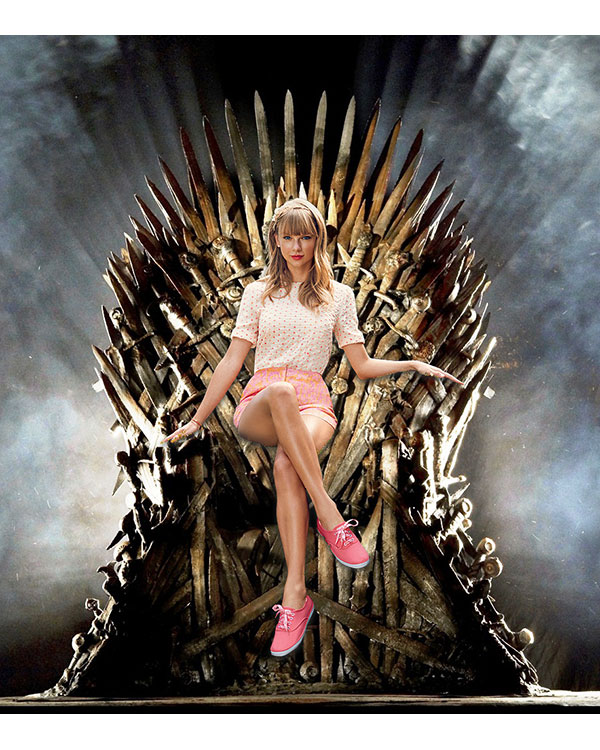 However, this is not the first time Swift has taken a stand against tech companies who offer streaming services. Swift pulled her music from Spotify last year to protest their Freemium model, and the move made several industry watchers take notice. But Swift can certainly afford to limit her exposure when it suits her interested. Her latest release, "1989" has sold 4.9 million copies in the US and each of her last three albums, "Speak Now" in 2010, "Red" in 2012 and "1989," released late last year, sold more than 1 million copies in the first week of release, an amazing accomplishment considering the music industry's dwindling economics. In all, Swift has sold 28 million copies in the US to date according to Nielsen Music, and Forbes estimates her net worth around the $200 million mark.
Another aspect that led to Swift's deft shaming of Apple, is the fact they have the largest cash reserve of any American company. A whopping $178 billion is collecting dust in their coffers. Thus, the aspect of being greedy at the expense of artists does not fit with Apple's heritage of offering products that cater to creatives.
That said, with support from all over the music industry, Taylor Swift is getting all the attention, but Apple should also be saluted for immediately changing their tune and adroitly side-stepping a prolonged feud, which would have led to serious "Bad Blood" with the new Queen of Westeros.